Posted
January 13, 2016 by Cooper Point Journal
in Community
The Evergreen Food Systems Working GroupUpholding the Commitment to the Real Food Challenge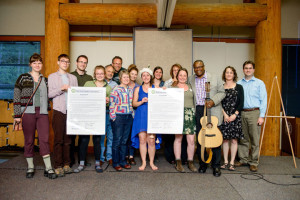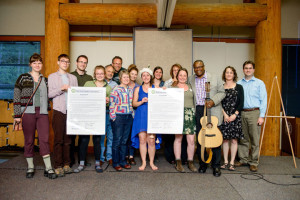 By Kristina Holtrop & Courtney Peetz, of the Food Service Working Group
Since Evergreen's inaugural class in 1971, the relationship between the students and the administration over the issue of food has been fragile. Our collective history holds the story of countless actions to reduce the hold of corporate food on campus such as the creation of The Flaming Eggplant Cafe, and improving the access to low-cost or no cost food through the Evergreen Thurston County Food Bank Satellite.  To this day, it remains a huge point of tension for many Evergreen students that our school continues to operate within the corporate dining service structure, involving us with companies that pull in billions of dollars of revenue—the dining contract industry collectively pulls in more revenue than McDonald's.
It should also be noted that dining contractors don't just service colleges; they also provide food to hospitals, K-12 schools, and prisons.  In fact, many students have been reluctant to cooperate with Aramark at all, considering their involvement with prisons.   
However, in 2015, a group of students who had been working with Aramark for increased sustainability decided to introduce our campus to the Real Food Challenge (RFC), expanding our school's defined expectations for labor rights, humane animal treatment, and environmental consciousness.  This was not just a way for our campus to walk a middle road with corporate dining.  Instead, it is an opportunity to continue our recognition of the presence of corporate food on our campus, and hold it to a higher accountability.  In 2013, Evergreen contracted with Aramark for nine years. This obligates all students who eat at the Greener, and Aramark-owned Einstein's Brothers Bagels, to support the contract.  In other words, our campus is involved, and our campus needs a way to ensure that our involvement is not passive.
While going "self-op," entirely away from corporate dining, is not currently financially possible for our school, we can all support the Flaming Eggplant or local farmers ourselves.  But withdrawing from the process entirely is not changing the fact that Aramark is here, and we can either ignore their presence and refuse to engage, or we can confront our position, directly, and make them as accountable as possible.  As a campus, we have that power, the RFC reinforces that, and our opportunity to write a policy is here:  let's use it.  By signing with the RFC, we are agreeing to work with Aramark, to bring together their purchasing power and our school's values, and increase the percentage of food purchased locally, humanely, or fairly, to be served at our campus eateries.
The Real Food Challenge is a national, student-founded, student-run organization that supports students who call upon their colleges or universities to sign a commitment to transition to at least 20 percent of campus dining purchasing food that "truly nourishes producers, consumers, communities, and the earth" (RealFoodChallenge.org).  These criteria are primarily verified by third party certifying bodies, such as EcoCert Fair Trade, The Rainforest Alliance, The Animal Welfare Institute, but they can also be met by establishing that a producer operates entirely within 150 miles of the campus and/or as a worker cooperative.  It's a broad spectrum of values-based selective factors, but the RFC creates a working rubric, a "Real Food Calculator," into which all Aramark purchasing is factored.  Once every purchase has been factored, a clear, accurate picture of our financial investment in so-defined "Real Food" producers becomes available.
When Evergreen signed in 2015, our Real Food purchasing already exceeded the minimum 20 percent required by the challenge, so we made our own goal of 28 percent.  Currently, our school is at about 26%.   
Thirty-five schools nationwide currently participate in the Real Food Challenge. Our school was the second school contracted with Aramark to sign in the country, which increased pressure to sign on Western Washington University and University of Minnesota, both contracted with Aramark.  In December, WWU accepted the challenge, and now our state is uniquely prepared to work with Aramark as a large-scale purchaser of small producers.
As part of the signing of the RFC, a school must create a Food Systems Working Group (FSWG) to navigate purchasing changes, the writing of a school-wide food policy, and bring together community members to create a cohesive voice of the college's food system.  The hard work of Evergreen students last year secured limited funding to employ two student representatives to serve as Chair and Vice Chair of the working group for the 2015-16 school year.    
Courtney Peetz, an agriculture and botany student at Evergreen, will be serving as Chair, acting on a long interest in sustainable food production, healthy community development, and food justice.  The Vice Chair is Kristina Holtrop, a first-year student at Evergreen in the Terroir program examining the relationship between culture, environment, and food. It is her goal to create positive change in the world of food, and in the past, she has served as the Irrigation Festival Pageant Princess in her hometown of Sequim, which allowed her to design an educational program about local food and farmers for sixth grade students.
The goal of FSWG is to change the food system from the inside out by using anchor institutions such as colleges and universities; these institutions are filled with active, creative young adults who can create a model, a pathway, for other large-scale consumers to incorporate better purchasing as a standard.  Already, popular attention to better food has put pressure on the food industry to operate more responsibly and transparently; but we still have to conquer the areas of large-scale buying power.
What can you, as an active community member, do to help?  Currently, we are preparing to publish a survey that will support us in writing Evergreen's comprehensive food policy. Look for it on Greener Commons or by liking the Facebook page titled "Evergreen Real Food Challenge."  We are also seeking help from individuals who want to participate in writing the policy.  Furthermore, you can ask your class and professors to host us for a focus group in your classroom.  Increased student input is vital; we are seeking opportunities to have challenging discussions that force us to look critically at this process.
You can even have a say in FSWG's policymaking if you come to the quarterly meetings.  The winter meeting will take place February 10, 2016 (classroom assignment will be announced on our Facebook page).  The FSWG believes that broad involvement is important and necessary when developing action plan that affects the community, so this meeting is open to the public. All students, faculty, staff, or other stakeholder community members who want to have their voice heard are encouraged to attend the meeting. You can also email the chair at FSWG@evergreen.edu to express opinions, offer help, or find out more about getting involved.