Prison Obscura Opened Last Thursday at the Evergreen Gallery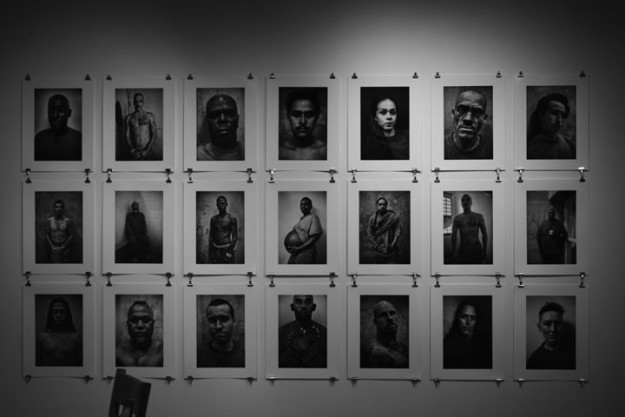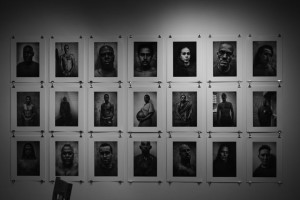 By Jules Prosser & Ruby Love
Prison Obscura is not for the faint of heart, nor for those who choose and cherish gentle ignorance. The experience of Prison Obscura can be compared to the nature of the moon. People like us exist on a planet on which we only see it's white glow, illuminating the motions of our lives. However, the moon has a dark side; a lost, undiscovered place. We all know it's there, but we don't see it or think about much it at all. It means absolutely nothing to us, except for the single fact that it is there, taking up space.  The thing about that, however, is that the moon can't exist without its dark side. Nor can humanity.
The delights of our planet do not exist in a vacuum. The history behind us is steeped in terror, the future ahead hangs heavy and hazy. The encircling present gives us daily discomforts and annoyances. But the true dark side of our country is the prison system. Like the pretty light of the moon, our free and pleasurable society cannot exist without the dark behind it. Our collective freedom comes at the cost of a world of others
Prison Obscura opened last Thursday at Evergreen Gallery. Two gallery assistants were posted outside the doors, directing people into the exhibit, and insisting that those who were being asked to part with their bags would be OK without them, and no, they wouldn't get stolen and yes, you do have to leave your backpack.
Evergreen Students, faculty, and community members wandered in small clusters from exhibit to exhibit as they took in a looping animated video, a slideshow with audio interviews, and numerous groupings of still photographs. Seven artists contribute to Prison Obscura: Pete Brook, Josh Begley, Paul Rucker, Kristen S. Wilkins, Robert Gumpert, Alyse Emdur, and Evergreen Faculty Steve Davis. The most immediately striking of the exhibits are the sheer amount of photographs. There are hundreds of them. The photographs are surprising and murky with shards of glass and light alike. Most of them are portraits, showing imprisoned inmates and family portraits alike, with varying degrees of gravity. On one wall, there are stark black and white photographs taken by Robert Gumpert, accompanied by recordings of each subject.
The exhibit curator Pete Brook, acquired documents of the seminal Supreme Court case Brown v. Plata, a Supreme Court case which addressed issues of overcrowding and lack of access to medical care in California prisons. Accompanying the thick binders were photographs, which were plastered across a section of the farthest wall. The images were mind-blowing with photographs of hospital beds stacked three-beds high, group therapy sessions in which individual inmates are kept in cages, suicide-watch cells, and empty rooms, whose dingy and dark desolation were superlatively terrifying. It was hard to face the images; even with their grainy inkjet quality, the clarity of such wretched reality could not be unseen.
Another striking exhibits is by Josh Begley, who created an exhibit called Prison Maps. Prison Maps gathered countless Google Maps images of prison complexes that spatter the walls, and are also available to navigate through a computer, viewing projections of image after image on the wall, no matter what button they pressed. One might experience a slight feeling of uncanny valley. These manmade complexes, images of nature, mutilated and reworked into cruel, industrial commodities. Begley's images strongly resemble motherboards, which is the part of the computer that is connects the other hardware and other layers of computer hardware. Begley "manipulates Google Maps API to write codes that use longitudinal and latitudinal coordinates in creating aerial satellite views of every carceral facility in the USA…by using the publicly available embedded data on town, state, and security level, [in which] users can also drill down and investigate for themselves. In an age of open source collaboration, Prison Map may the opening gambit in a public enterprise that uses the satellite image as a visual turnkey into the prison system (Prison Obscura Essay, Pete Brooks). The unsettling hardwire-like images and the open-source internet process of the exhibit are a creepy combination.
After gallery-goers had gotten a chance to circle around the space a few times, getting an initial view of the exhibit, the show's curator, Pete Brook, was introduced and began leading the audience on an in-depth tour of Prison Obscura's contents. Brook discussed the approach of each artist to their particular work, and the often random or coincidental events that led them to create their projects. For example, Alyse Emdur, whose work includes large format photographs of prison visiting rooms, happened upon a photo of herself as a child in one of these visiting rooms as her family was visiting her brother who was in prison. Intrigued by the image, Emdur began researching prison visiting room portraits, a largely undiscovered but fascinating genre of photography. Brook's talk was full of stories like this, where photographers had been shaped by their personal experiences and the relationships they'd developed with incarcerated people, and these relationships had shaped the course of their work.
Brook fleshed out the exhibit in a way that the images and captions alone could not have; we learned that Mark Strandquist, one of the photographers in the show, had recently partnered with a law enforcement officer to have him write a training manual for policemen with the help of juvenile prisoners. This enabled the young men and women to create change within the system that had so often failed them, and to help address issues with policing before they affected other young people. I was on the verge of tears for much of the exhibit; this simple but profoundly needed project pushed me over the edge, as it did for much of the audience. It is for this reason that Prison Obscura works—it simultaneously reminds us of the humanity of incarcerated people, and the horrific conditions and experiences the prison-industrial complex inflicts upon them.
What we must realize: unlike our moon we are capable of peering into the dark side of our humanity
If you missed out on the opening night, don't freak out!! The show will be up until March 2, and the gallery is open Tuesday, Thursday, and Friday from 10am-5pm, and Wednesday from 1:30-5pm. You can also view Davis's portraits along the library