Blackfish Shows at OFS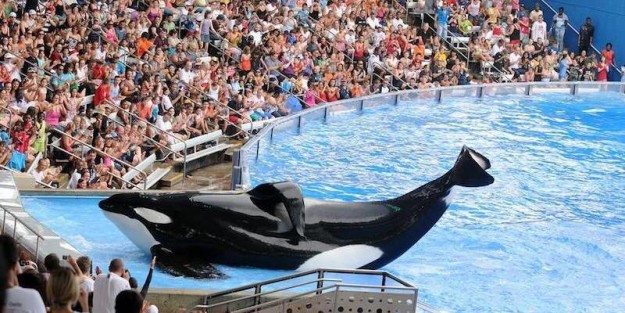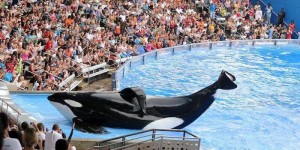 By Sara Fabian
Let me preface this article to you by saying that I had never before seen Blackfish, in neither theaters nor on Netflix, where it was recently released for streaming view. However, I have heard many one word reviews from friends and family that seem as though they would appear in bold font on the back of the DVD case. "Intense!" one friend said. "Good, but really terrifying" said another. My dad, who's an avid animal lover and factoid on everything national geographic, commented that it was "profoundly emotional" and "some deep dark shit." I began to wonder if I was seeing a documentary or a psychological thriller.
The blackfish movie screening was a free event, hosted by The Olympia Film Society (The OFS) which meant that I would only have to pay for popcorn, and to me that seemed truly reason enough to check it out. I arrived 30 minutes before show, grabbed my popcorn, chatted with some cool Olympia folk, and anxiously ate until the film began. Fast forward two hours later and I walked out the theater speechless, inspired, and in desperate need of a Shirley Temple to calm down my newfound angst.
Blackfish is a documentary about the story of Tilikum, a troubled orca whale that killed several people while in captivity. It begs the question, how was this highly intelligent, emotionally scarred orca, allowed to perform and interact with trainers and performers, even after several deaths were attributed to him?
Diving back into the history of Tilikum's capture and the brutal practices of acquiring these magnificent creatures, the audience can see where the trouble began. With shock and awe, it is revealed that years of emotional trauma and abuse culminated into several deaths at different ocean theme parks. Throughout the film, director Gabriela Cowperthwaite taunts us with the question, were these incidents posed as cover ups from the multi-billion dollar sea-park industry, or did management and the authorities look the other way? The answer is terrifying both.
The blatant neglect and PR spinning is seen several times. For example dolphin trainers weren't marine biologists, but rather just park employees with "personality," education was not necessary but their swimming skills were of the utmost importance. The Seaworld trainer deaths along with their cover-ups were investigated in the film, broken down from the deceptive and mostly corrupt press release, to the truth.Blackfish chronicles the violent and depressing behavior of the Orca Whales, and shows, undeniably, that holding these whales in captivity in concrete tanks causes them physical and mental stress.
After the film, The OFS treated us to a post-film discussion with marine mammal specialist Dr. Naomi Rose and ex-Seaworld trainer Carol Ray. During the discussion and Q&A some really interesting things came up. For one, since Blackfish's 2013 release, Seaworld's stock has gone down about 50 percent. According to the SeaWorld Entertainment Inc. report, the theme park suffered an 84 percent net drop in its second-quarter. Total revenues for the quarter fell from $405.2 million in 2014 to $391.6 million, marking a 3 percent drop year over year. The media has coined this as the "Blackfish Effect."
Since the 2011 death of Seaworld trainer Dawn Brancheau, Tilikum has been removed from SeaWorld's show and new protocols keep trainers away from the whale. In addition, many protests and lawsuits have been put on by PETA and other liberation groups.
It seems pretty clear that keeping animals in an unhealthy captive situation is wrong. The question many are asking is "what is SeaWorld going to do about it?" In January 2015, SeaWorld detailed their plans for renovations at the San Diego Park. According to CNN news, they plan to undergo a massive expansion of the Orca's habitats, included doubling the size of the whale tanks. Previously the whales were confined in a 20-foot-by- 30-foot pool overnight.
Carol Ray also explained that it's unrealistic to release the orca whales since they have been domesticated for so long and would probably die in the wild. She also said that SeaWorld doesn't have to go out of business, "it should remain as a theme park, just without the torture of beautiful, wild creatures." She's also believes that with CGI and various forms of new technology, we can simulate a fun active learning environment without a physical whale present.
I highly recommend you watch this thoughtful, stomach-churning documentary on Netflix, and if you want to be of service, learn more about orca whales and how to save them from death and extinction, check out these organizations to help the cause; www.orcaconservancy.org and pacificwhalewatchassociation.org