Posted
February 10, 2016 by Cooper Point Journal
in News
Beezow Doo-Doo Zippitybop-Bop-Bop Arrested for Assaulting Campus Police OfficerThe Man was Allegedly Found Tearing Down Pro Trans-Rights Flyers Right Before the Incident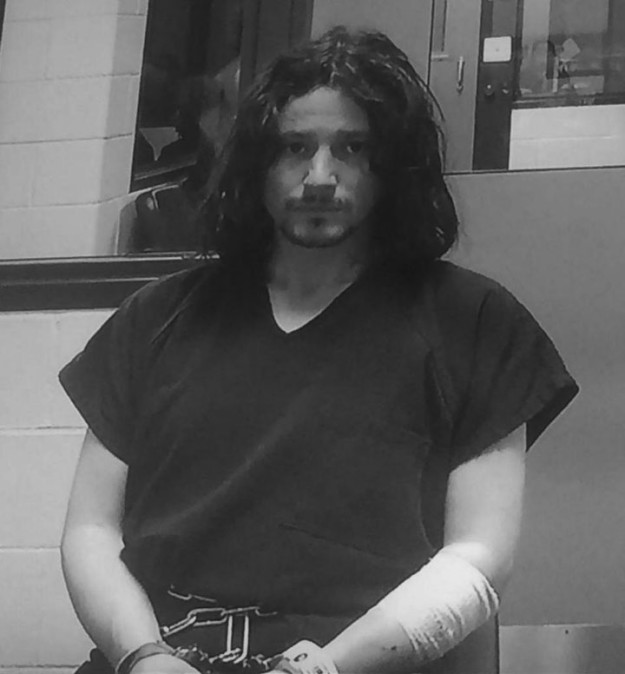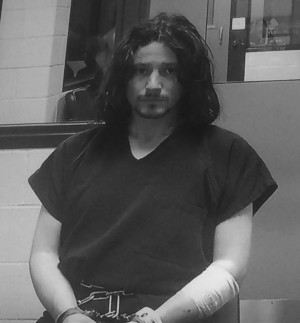 By Felix Chrome
On the afternoon of January 31, there was a physical altercation between a campus police officer and a man he was attempting to detain. The incident took place after Officer Tim O'Dell confronted a man who was removing fliers in support of queer and trans visibility from the Evergreen Library.
The man ran away from Officer O'Dell, across red square towards the bus loop. When Officer O'Dell caught up, he attempted to pin the man down, and he responded by hitting the officer repeatedly. According to the initial report by Evergreen, "The suspect bit the officer and drew blood, attempted to take the officer's gun, and removed the officer's hand-cuff pouch. The suspect hit him on the head with the hand-cuff pouch causing a laceration requiring four staples."
This description of events comports with what a bystander who witnessed the entire incident told the Cooper Point Journal. This witness, Lovi S., described the assault in great detail, and characterized the man as being in an aggressive, combative state, saying, "this guy was out for blood."
Officer O'Dell tried to punch the man, and tased him twice, but could not subdue him and backed away from the conflict. O'Dell then called for backup, and the man was arrested by Thurston County Sheriff officers. Before he was arrested he knocked over an evergreen student while attempting to run away.
During the incident, Lovi picked up the man's wallet and reported to the CPJ that there was an ID for Beezow Doo-Doo Zippitybop-Bop-Bop. She also identified a mugshot of Zippitybop-Bop-Bop from 2012 as the same man she saw in the incident with Officer O'Dell. Zippitybop-Bop-Bop is not a student of The Evergreen State College.
The Olympian later reported that Zippitybop-Bop-Bop was arrested and is being charged with  first-degree assault, third-degree assault, third-degree malicious mischief and malicious harassment.
This is not the first time Zippitybop-Bop-Bop has made the news, he has been arrested before, and the media has picked up these stories because of his strange name, which he changed from Jeffrey Wilschke in 2012. When he was arrested in Madison, WI in 2012 the story went viral, making Zippitybop-Bop-Bop a brief sensation. At this time he told the Wisconsin State Journal "I do plan on becoming a recognized figure in the world, and I'd predicted that an event such as that would happen."
He echoes this sentiment on his facebook page where he paints himself as a messianic figure, where he posts near daily tirades against women and queer people, interspersed with posts shared from MRA pages, and advocacy for his raw food diet. After one particularly hard to follow diatribe, Zippitybop-Bop-Bop writes, "Come join me and my revolutionary movement in my devil-cursed feminist/liberal-hell Capitol city of Olympia. WE HAVE A MILLION SOCIALISTS, PERVERTS, LIBERALS AND FEMINISTS TO EVISCERATE."
These posts may provide some insight into the January 31 incident, which all began when Zippitybop-Bop-Bop was tearing down signs stating "trans women belong here," "queer students belong here," and other similar variations. These affirmative signs were posted after banners for T*REX and Lady & Trans Night at the Evergreen Bikeshop have been repeatedly torn down, as well as incidents of defacing fliers having to do with queer and trans rights on campus.
There is no way of knowing if these ongoing issues all tie to Zippitybop-Bop-Bop, and were likely committed by multiple individuals, but Zippitybop-Bop-Bop has expressed very strong homophobic and transphobic sentiments, that would appear to be explain his motivation for this incident.
There was a rumor that a transgender person on campus was assaulted in some relation to this incident, but we were unable to trace it past a single facebook post that was then widely shared and reshared; we believe this to be a misunderstanding based on the early information about this event with the police officer, but were unable to fully verify if this did or did not happen.