Posted
February 24, 2016 by Cooper Point Journal
in Community
Urban Farming After EvergreenEvergreen Graduate Jessica Schilke Goes Onto Direct The Urban Farming Program at Microsoft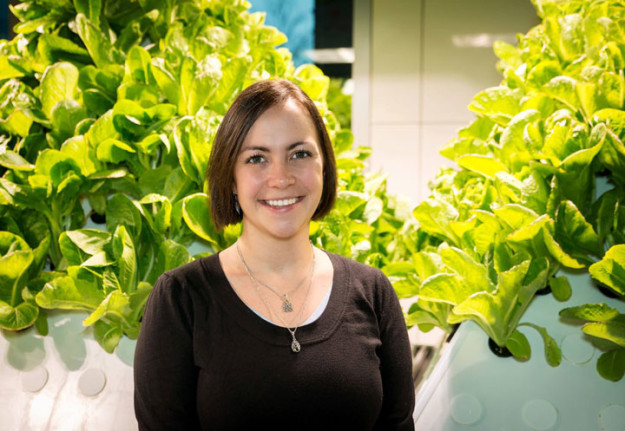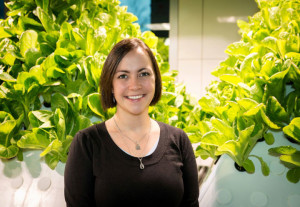 By Devon Merriman
It's Happening, What Now? took place at Evergreen last month. The event is a series of presentations about climate change. Jessica Schilke stood in front of a room full of Greeners and spoke about her job growing fresh produce for Microsoft at its Redmond campus. Two years ago, she was a student here herself.
"I'm the Urban Farming Director for Dining at Microsoft, which is really not where I thought I would be heading when I was working at the organic farm," she said.
At Evergreen's farm, Schilke started by constructing a mid-sized aquaponics system. She went on to develop a larger hydroponics system at Microsoft, right in the middle of a cafe on campus. Everyday, Dining at Microsoft serves more than 40,000 meals.
The objectives of Schilke and her team are to engage guests and grow food in ways that reduce carbon emissions and water use. When done properly, hydroponics can use up to 90 percent less water than traditional farming. It does this by recirculating the water back into the system. Having her system on the Microsoft campus also decreases waste by reducing transportation, thus reducing emissions and food spoilage.
"One of the reasons I came to Evergreen was to study more about food. They have a fantastic program at the organic farm and you can do independent studies and be supported as an undergrad." She also praised the school's support for student activities.
Schilke took classes about food production and self-led studies on aquaponics and hydroponics. She also took a class on city design called Rethinking the Suburbs. "I became fascinated with food because it's such a key component; it doesn't matter if you can build a great building or design a transportation system if you can't feed people," says Schilke.
When she learned about a man named John Todd and his closed loop system for processing human wastewater to drinking water, Schilke thought about other types of waste in our food systems. "I was like, 'oh my god, you can do that with fish!' And turns out there's already a name for that: aquaponics. I was really excited this was already a thing."
At that point, Schilke applied for a grant through Evergreen's Clean Energy Committee to build an aquaponics system at the TESC organic farm. About her time at Evergreen, she says, "I spent most of my time doing ILCs and leading a student group. I learned how to do stakeholder management, work with other students, do advertising and website design, and I wrote articles and spoke at national conferences—all of which tied into my independent learning."
When Microsoft needed someone to lead their hydroponics project, they called the school, who directed them to the organic farm. "Dining at Microsoft was looking for somebody doing hydroponics who had hands-on experience," she said. After her many ILCs, Schilke was the perfect fit.
"The only way for me to get hands-on experience was the way I went about it. And Evergreen is really good for that," said Schilke. "If you're in a job interview and they ask, 'How do you know you can do this?', you can say, 'Well, I already have! Here's the pictures of what I accomplished.'"
"That's the cool thing about Evergreen", she said. "There's funding and support for hands-on learning so you can come away with real life experience, and push yourself into fields that maybe don't exist yet."