Posted
February 24, 2016 by Cooper Point Journal
in Community
Workshops and Advice at Mentoring Day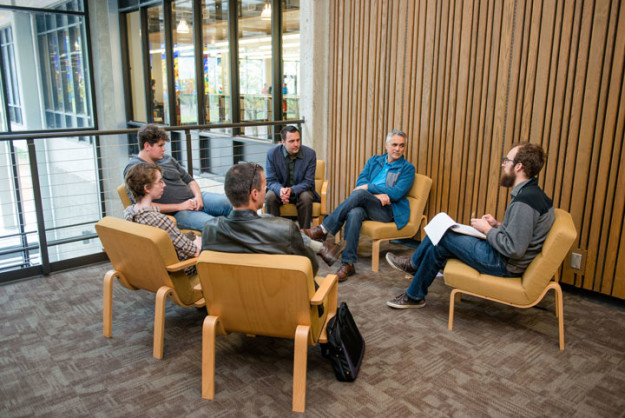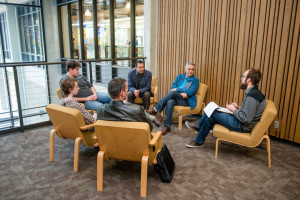 By Felix Chrome
Evergreen's Mentoring Day will take place on March 2, at 1:30 p.m. beginning in the library lobby. The event is designed to help students navigate Evergreen by working with faculty and peers.
All undergraduate students are invited to attend workshops and meet with teachers to help advise them on their academic path and navigating Evergreen
A large focus of the event is allowing students an opportunity to better understand the academic statement. This fairly recent requirement has students describe in their own words the significance of what they have done at Evergreen, and introduce potential employers, graduate schools, and others to their transcripts. There is a general workshop about the statement, as well as two opportunities to get individualized faculty support on the academic statement process.
Students admitted after Fall 2013 are required to submit an annual Academic Statement, and and a final draft for graduation. For students required to complete an academic statement, the 2015-16 draft is due May 12. Students admitted before the requirement may include an academic statement in their transcript, and the administration encourages them to do so.
After meeting for an opening session with live music, there will be two sessions of workshops on a wide range of topics. There are workshops specific to every department at evergreen, from math, science, "Sustainability and Justice," to psychology, the humanities, and "Career Paths in Education."
Other workshops could benefit any Evergreen student regardless of discipline, such as the ones focused on independent learning. There will be a "Contracts and Internships" workshop in the first session which says it will "walk you through the process of deciding if an ILC or Internship is right for you and how to pursue one." This may be especially useful since there were changes to Independent Learning Contract requirements that went into effect this year.
In the later session, there is a workshop called "Autonomous Study at Evergreen" which asks "How do students intellectually and pragmatically conceptualize and structure autonomous study at Evergreen? How do students prepare for the demands of self-directed projects in rigorous, effective, and enlivening ways?" and will present a panel upper-division students who have done independent work at Evergreen addressing these issues, as well as a question and answer session.
Mentoring Day is a unique opportunity for students to meet and speak with faculty members outside of their programs. As Shaw Osha, the chair of the Mentor Council, stated, "We have carved out time for mentoring around fields of study, pathways, and the various options of studying at Evergreen and to help make academic planning a collaborative endeavor where faculty help students assess what they are looking for and consider what offerings they encounter." Osha said this support and collaboration goes beyond just helping students choose programs or write statements, "We also are having conversations with them from a more holistic perspective wondering what we can do to support them as whole people."
Osha expressed that workshops are also designed to make Evergreen more accessible to all students by helping students understand and navigate through administrative and academic issues that may feel confusing or unfamiliar. "Mentoring Days is an opportunity for faculty and students to converge and discuss experiences, expectations and new possibilities. I see this work as increasing equity by offering more access to faculty and our pedagogy, which is especially important in an institution that admits students from such diverse backgrounds. Mentoring relationships are especially important for students traditionally underrepresented in higher ed."
---
CORRECTION: In the print newspaper we published that Academic Statements are due on March 12. This is incorrect and they are actually due on May 12 as the online version of this article states. We apologize for the mistake.