Posted
February 24, 2016 by Cooper Point Journal
in News
Workshops & Direct Action at Farmworker Justice Day Students Protest Farmworkers' Unfair Wages and Working Conditions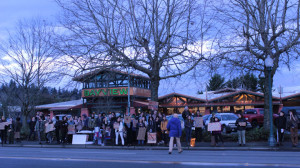 By Sarah Bradley
Feb. 17 marked Jose Gomez Farmworker Justice Day at The Evergreen State College, organized by The Olympia Farmworker Justice Collective. The annual event, named in remembrance of a longtime Evergreen faculty member, brings farmworker's voices to the student body through panel discussions and workshops.
The day's events then culminated in a picket outside of Bayview Thriftway to boycott Driscoll's brand berries. The protest was successful and Bayview agreed to remove the product from the shelves, making one small victory in the context of a larger struggle for fair treatment of farmworkers.
This year's panel discussion was held in the lobby of the library and an estimated 800 people attended. The panel consisted of photojournalist David Bacon, activist and organizer Rosalinda Guillen, Familas Unidas por la Justicia union president Ramon Torres, and Evergreen faculty member Catalina Ocampo. Evergreen student Camila Rancon provided Spanish to English translation for the discussion. The panel included a question and answer session, allowing those in the audience to engage in the discussion.
The panel discussion was lively and provided information about both the history of labor struggles for farmworkers as well as information about ongoing efforts for justice among farmworkers. While the discussion was broad in its scope of farmworker issues and migrant worker justice, there was specific attention to migrant field workers in the North West and how to be active in the political process. The discussion was filmed and is archived at Evergreen's website for students who could not attend.
Photojournalist David Bacon, who worked as a union organizer for 20 years, shared photographs depicting the lives and working conditions of field workers. Bacon calls himself a "participant photographer" meaning he is part of demonstrations and protests that he documents, as opposed to taking a neutral outside perspective. Bacon's photos provided a window into the reality of fieldworking conditions that people outside those communities are not always made aware of.
Rosalinda Guillen moved to Washington at age 10 as part of the immigrant farm labor community. She has been a longtime labor organizer with United Farmworkers. Guillen is the cofounder and executive director of Community to Community, a grassroots organization committed to strengthening alliances in local and global movements while working towards social, economic, and environmental justice.
Representing Familas Unidas por la Justicia was Ramon Torres. Torres is the union president of Familas Unidas, an independent union of farmworkers from the Skagit Valley.They are fighting for fair wages and better working conditions for farmworkers and have called for a boycott of Driscoll's brand berries until they receive a fair contract.
While Farmworker Justice Day occurs at Evergreen to bring greater awareness to the student body, the issues discussed are part of larger ongoing struggles around the treatment of migrant workers. Many of the speakers and contributors to the day's events underscored this sentiment, urging students to stay active and remain aware of injustices.
There were two workshops held as part of Farmworker Justice Day following the morning's panel discussion. One workshop was on the history of boycotts in labor struggles. Facilitated by Rosalinda Guillen and Grace Cox, the workshop explained the effect that participating in a boycott has through examples of past boycott tactics, such as the successful boycott of one  Washington's largest wine makers, Chateau Chez Michel. Guillen and Cox are both involved in the Driscoll's boycott.
The other workshop that occurred was a sign making workshop in which participants made posters to be brought to the picket at Bayview Thriftway.
Later that evening, students and activists lined both sides of the street outside of Bayview. The group held signs in support of the Driscoll's berries boycott, protesting the unfair treatment of farmworkers, and urging shoppers to consider where their food comes from and how it is made.
The protest began at 4 p.m. and continued through sundown—a time of day with high traffic for grocery shoppers and people passing by in cars or on foot. About 100 participants were present for the protest. Food Not Bombs set up a table to provide food for the protesters, and there was pizza provided by Vic's.
Information about the protest was distributed to stopped cars and people walking past. The handbills provided by Olympia Farmworker Justice Collective contained a brief history of the ongoing boycott, illustrating the struggle for fair wages and treatment by Sakuma Brothers farm.
The flier said, "Driscoll's is the largest berry distributor in the world and has a history of repressing union organizing. They also supply berries from farms in San Quintin Mexico where over 30,000 farm workers went on strike this Match over $7 dollar a day wages, widespread sexual abuse, and child labor, and are continuing to fight for just treatment.Farmworker families in both WA and Mexico are asking people to stop buying Driscoll's Berries until they have legally binding union contracts that ensure justice and dignity in the workplace."
A lot of Evergreen students came out for the protest. For some students, it was their first time taking part in such a demonstration. First year student Deborah Bitanga is the daughter of a farmworker and told the CPJ she feels "privileged to be carrying out justice on behalf of her family."
Many people at the protest have been organizing and attending similar actions all over the region. To find out more about these events you can follow the boycott at boycottsakumaberries.com and by following the Olympia Farmworker's Justice Collective.
The Farmworker Justice Collective meets year round organizing projects to educate the community and advocate for the rights of farm and fieldworkers. The collective will be having an interest meeting on Thursday, Feb. 25 in CAB 3001 at 3 p.m. for people who would like to learn more about the collective and how to participate in future actions.