Senator Murray on College Affordability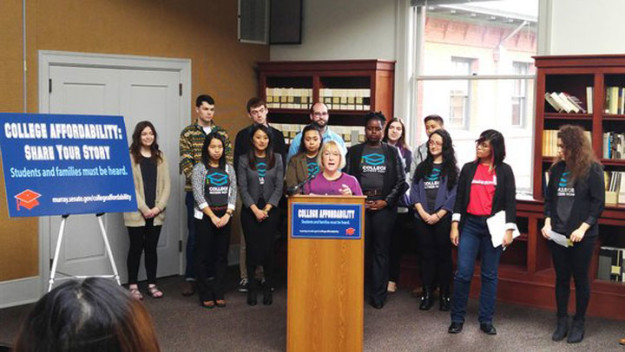 By Senator Patty Murray
I recently met with students in Olympia to discuss the burden of student debt and how it affects their lives – students like Caitlyn. Caitlyn said she was able to go to college with the help of need-based aid like Pell Grants and student loans. But now, she said she's anxious about graduating, knowing she'll start her career with outstanding debt, and she worries that students like her will never be able to save for the future.
The high costs of college and student debt are holding too many students, like Caitlyn, back.
Last month I asked students to tell me what they're going through, because I consider it to be one of my most important jobs as a U.S. Senator to make sure people in Washington state can make their voices heard in our nation's capital. It's one part of my effort in Congress to combat rising college costs and make sure students can graduate without the crushing burden of student debt.
Across the country the yearly costs of attending a community college can easily exceed $10,000, even after financial aid. Overall, 42 million Americans hold more than $1.3 trillion in student loan debt.
That's why I support legislation to help students attend community college, tuition free. I want to make sure more students can take advantage of financial aid, especially need-based aid that helps keep debt down, like Pell Grants. We should also let borrowers refinance their student debt to today's lower rates. And to pay for these solutions, we should finally close some of the most egregious special interest loopholes that right now, only benefit the biggest corporations and the wealthiest few.
For me, this isn't just another issue. It's personal. When I was young, my father was diagnosed with Multiple Sclerosis. Within a few short years, he could no longer work, and without warning, my family had fallen on hard times. Thankfully, my brothers and sisters and I went to college with help from what are now known as Pell Grants.
Even through those hard times, we never lost hope that with a good education, we would be able to find our footing and earn our way to a stable middle class life. Today, we can't turn our backs on the millions of students who need a path forward to afford college and pay back their student debt.
Over the next few months, I want to keep hearing from students at Evergreen State College (murray.senate.gov/collegeaffordability). And I'll continue to work hard in the Senate to make sure higher education and earning a ticket to the middle class is a reality for more students in Olympia.