Merging Art and Entrepreneurship Gallery Boom Comes to Downtown Olympia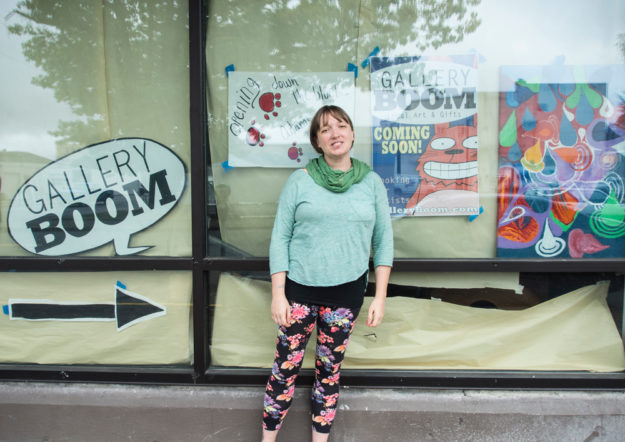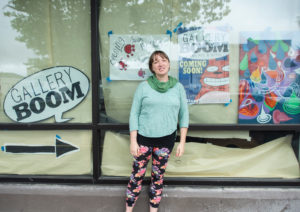 By Ruby Love
If you were around this past summer, you may have noticed some changes to a building in downtown Olympia. The block-wide building, recognized by most as the location of Planned Parenthood, is outlined by Fifth, Adams, and Legion, and has been sporting mysterious papered-over windows. A little while back, cartoon wooden rabbits began appearing, accompanied by a large sign reading "Gallery Boom." Soon after, calls for artists started, and I changed my dog-walking route to pass by the building each morning, catching fleeting glimpses at the interior- always a flurry of activity.
So, for our first issue of the 2016-2017 school year (hi everyone!) I wanted to get the scoop on Gallery Boom. In this writer's (and artist's) opinion, any new art space, especially downtown, is really exciting in a place that has plenty of artists but not near enough community art spots.
I sat down with Christine Malek, the owner of Gallery Boom, to talk about the history of Gallery Boom and its future in the Olympia art scene. She was kind enough to spend an hour with me, letting me poke around the building and grill her about all of her plans for the space. Malek moved to Olympia almost ten years ago to work at the Co-op and began selling her art, stuffed animals she creates under the name Vidaliah Crafts, there a couple years later. A founding member of the Splash Gallery, Malek and her then-business partner were approached about starting a gallery in Tumwater, in a 250 square foot building in the parking lot of Fred Meyer. Gallery Boom, which opened two years ago as the Tumwater Chamber of Commerce Business Incubator, became the first-ever all-local art gallery in the history of Tumwater. The tiny space housed about thirty artists, and Malek says that despite the very supportive Tumwater community, the location was "tricky to get to" and she felt that for the gallery's continued growth, she would need to move it elsewhere. She started looking for places in Tumwater, Olympia, and Lacey, but wasn't finding much luck until she replied to a Craigslist ad in a last-ditch effort:
"I was sending out all of these emails to Cragislist ads and talking to city people and it was just all of these business dudes who don't understand anything about art and don't understand anything about retail… and I was just done. I was ready to go through another holiday, close up in January, and then sell stuffed animals at the farmer's market. So, the day that I decided that was the plan, I replied to this really cryptic and brief Craigslist ad, and I wasn't expecting anything… and then I get this email that says, 'call me' and I saw this place."
"This place" is the building Gallery Boom now calls home. Originally, the gallery was set to open in the building on the corner of Fifth and Adams, but switched into the space down the block, on the corner of Legion and Adams. This delayed their opening, but Malek says the new space makes has better natural light and more foot traffic. The new opening is set for October first, giving the gallery a chance to prepare for fall Arts Walk. Malek says, "I don't know what's going to happen on the first. If I have to stand there with a cash box and a receipt book, I will… we're gonna be open!!"
Even with the rush to open in time and the responsibility of coordinating with the more than forty artists already involved with the gallery, plus the two "co-habitators" (Gallery Boom will play host to Anti-Matter Gallery and Ameilia Romoff, palm-reader and psychic) Malek was bright-eyed and energetic as she led me through the over-5,000 square foot space. In addition to its "antique mall-style gallery" which will house works for sale (to sell their work, artists have the option to rent wall space, shelving, or a combination for monthly rates) Gallery Boom will also feature galleries for art shows and four rentable pop-up shops. The rental rates vary for each space, and artists can rent some spaces on anything from a daily to a yearly contract.
Malek's method of chopping up the space into many rentable areas, usually with customizable options, is designed to make Gallery Boom more accessible not just financially, but to artists with varying schedules, mediums, and styles. Malek points out that while Olympia has many artists who are continually making great work, the cost of opening your own store is out of reach for most, and more traditional galleries can be restrictive in their choice of mediums and content.
"The big key words to me for this whole project are equity and accessibility. I want it to be open to everybody; I want it to be accessible to everybody. I want this to be the kind of space that, if artists feel like they wouldn't be able to get into other galleries, that they could be here. I want to showcase art that is very popular but isn't very often seen in galleries, like fan art and graffiti art."
Ultimately, Malek sees Gallery Boom as more than just a place for local artists to sell their work – she sees it as a space to create community around art.
"I think the city wants to support artists, but they haven't found a good outlet…there just hasn't been a catalyst. And I don't want to be so full of myself as to say that we're going to be it, but I want to provide it… if people want to use us as a catalyst, we're here!"
Part of Gallery Boom's community presence will be the addition of classes. Starting in 2017, Malek, a graduate of Enterprise for Equity, will be teaching workshops on "art entrepreneurship." For example, classes would focus on teaching artists how to do their own bookkeeping, pricing, or simply learning how to photograph their pieces and put them up on sites like Etsy. Artists who rent gallery space will have free admission to the workshops.
For now, Malek is looking to increase the number of artists in the gallery space, and still has pop-up shops available for rent. For artists (or collectives) interested, Malek asks for an email with at least three photographs of work. Then she spends an hour sitting down with each artist, making sure all aspects of the contract are "talked out" and the artist's needs are met. Envisioning a "community of artists who take care of each other," Malek says: "My larger goal is to create arts community and to have a space for artists to come and to sell, and to talk, and to learn." Gallery Boom provides an opportunity to make art-buying and art-making accessible to a community that so clearly craves both.
Gallery Boom's soft opening will be October 1, and they'll be in "full swing" by Arts Walk. Their Grand Opening Masquerade is on October 28th, from 5 p.m. -9 p.m. If you want to contribute to the cost of the gallery's massive remodel and setup, you can get in on their Kickstarter, which ends September 30 at noon!