Posted
September 27, 2016 by Cooper Point Journal
in Community
Nazi Truck Spotted in Olympia Only the Most Recent Illustration of White Supremacy in the Pacific Northwest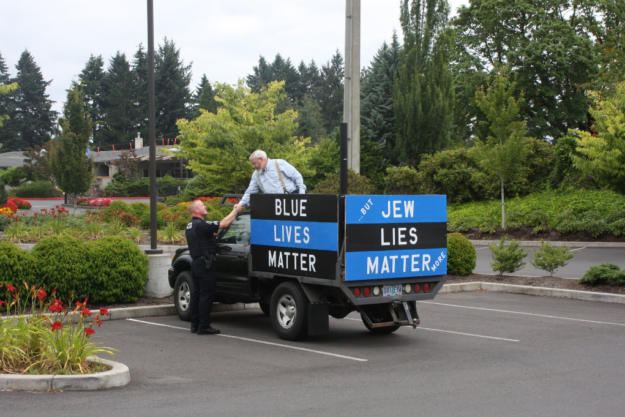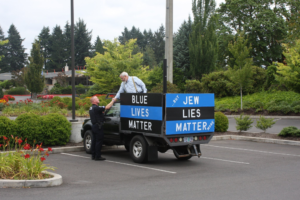 By Arash Muntazir
Neo-Nazi activist Jimmy Marr has long been on the radars of national organizations on both ends of the political spectrum, from the Anti-Defamation League, an organization that monitors and combats anti semitism to the white supremacist hate group, The White Genocide Project. His flamboyant racism and anti-semitism, however, is garnering both local and national attention as Marr tours the Pacific Northwest in what is being called on social media 'the Nazi truck'.
Making stops in cities across the Pacific Northwest, including Olympia, Marr has been spotted on several occasions in a black van decked in swastikas and slogans including "Jew Lies Matter" and "Blue Lives Matter", both playing on the popular rally-cry of the Black Lives Matter movement.  An ardent Trump supporter as well, the back of Marr's van has reportedly also been painted over with the slogan, "Trump: Do The White Thing".
Twitter was recently abuzz with a self released photo of Marr posing with a uniformed Eugene Police officer reaching up to the bed of Marr's Nazi Van to shake his hand. Others also posted photos of Marr's truck on the highway and in various Northwest towns, including Olympia.
While these images might be shocking and disturbing to many of those living in the cities scattered between Eugene and Seattle—Marr's 'commute'—the belief that this type of racism is somehow discordant with the historical values of the "liberal" Pacific Northwest is inaccurate.
Typically generalized as a breeding ground for leftism and progressive values, Olympia is by no means new to the presence of white-supremacists, although there has been a stifling increase in neo-Nazi activity over the past year. Non-coincidentally, this trend has coincided with the mobilization of Olympia's activist community around the police shooting of local black men Andre Thompson and Bryson Chaplin in the Spring of 2015.
Tension between Olympia's right and wings have only escalated since then, manifesting itself in counter-protests and clashes over hot-button issues ranging from gun-control to immigration and police brutality. These clashes have on a number of occasions resulted in violent and physical 'turf-wars'.
In one instance that took place in July of this year Olympia Black Lives Matter protesters attempted to block the Downtown I-5 ramp in response to the live-streamed murder of Philando Castile. When the attempt failed the protesters were met by police who tried to stop them from returning downtown Olympia, issuing an official dispersal order. Eventually the protesters made it to the downtown Olympia police station and were then confronted by neo-Nazis, many of the neo-nazis displayed tattoos of swastikas and other Nazi iconography even removing clothing to expose previously covered white supremacist symbols.
Demonstrations continued into the night, intensified by the national breaking news of the targeted shooting of police officers in Dallas. Scenes of riot-gear clad police attempting to stop the protesters from returning to downtown Olympia and news of protesters setting fire a shirt that had been left by man who had earlier been seen chanting, "White Power", were broadcast on Seattle's Komo News alongside live footage of the chaos ensuing in Dallas.
The alliance between some police officers and white supremacist however is old news for the Pacific Northwest, has a long history of overt white-supremacy enshrined as law as well as in the popularity of more fringe white supremacist group, as well as covert racism and discriminatory policies. Many would be surprised to know that a poll conducted in 2003 dubbed Portland, Oregon "the most racist city in the United States".
Upon its founding in 1859 as a white utopia, Oregon was the only state admitted with a constitution that banned black folks from living, working, and owning property. Today Portland's anti-blackness is manifested in both new and old ways, as gentrification has erased what little Portland's black community had come to claim as their own.
Washington state as a whole has a well-hidden, rich history of racism. The Southern Poverty Law hate map lists 8 active hate groups within Washington state, 5 of which are neo-Nazi, white nationalist or racist skinhead organizations. Of the 5 groups 2 are state wide, Crew 38 and The National Socialist Movement. The other three are; The Northwest Hammerskins, The Northwest front, and The Sadistic Souls motorcycle club.
The Northwest Front in particular garnered national news when 2015 church shooter Dylann Roof wrote about them in his manifesto. Their goal as a group is to rid the Northwest of its "race problem" by establishing a mono-racial territory, separate and ideally autonomous from the United States, by removing all non-white citizens from the area. The Northwest imperative was popularized by Richard Butler, founder of the white supremacist group Aryan Nations, but the movement has been reinvigorated by the Northwest Front, who refer to it as "the Butler Plan". The plan mirrors the "free Cascadia" movement in its projected location, which would cover Washington, Oregon, Idaho, and parts of Montana, as well as, in some projections, northern California.