Olympia Zine Festival The Second Annual Fest Featured Zines, Workshops, and Activities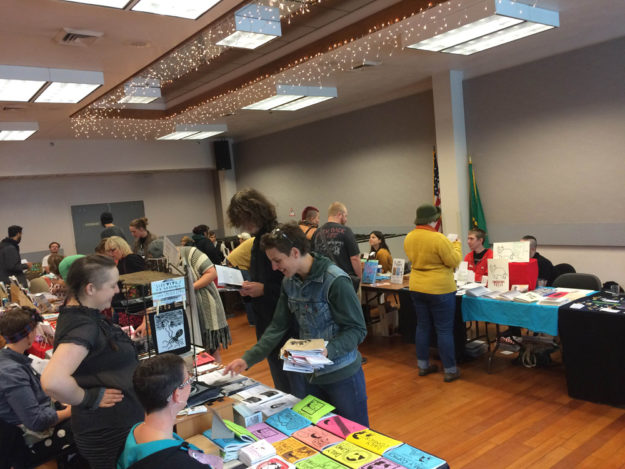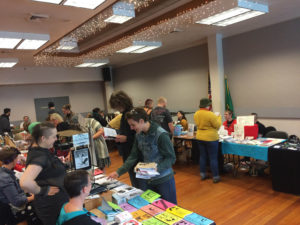 By Micheal Martinez-Esquibel
When I walked into the Olympia Center, I was first greeted with three tables covered in paper. Little did I know, those little pieces of art were what I had come for. I looked on the table and found a small folded piece of paper, decorated with a pair of detailed hands, that read "A Perzine Called Anxiety." That mini-zine, created by Miles Morrissey, was the first zine I ever laid eyes upon. After reading its solemn yet encouraging message, I had a yearning to learn more. Right then, I saw a doorway filled with joyful commotion and happy people. I knew I had to go in.
When I first arrived in Olympia, I thought I would never encounter a community as artistic and welcoming as the one that belonged to Evergreen—until I walked through that doorway. "Would you like a positive affirmation?" was the first question I was asked upon arrival to a booth operated by Kristin-Leigh Brezinski, an advocate for body positivity. By walking through those doors, I not only attended my first Zine Fest, I entered into a world all its own. This annual event, celebrating its second conference, is a haven for Washington's zine fanatics. The two-day event included a 'tabling expo' in which artists and zinesters alike sold, purchased, and traded zines. This one-day 'tabling' wonderland of original art was followed by workshops facilitated by professional zinesters.
For those of you who are clueless to what a zine is, as I was upon walking into Zine Fest, here is a definition given by "Zines 101": "A zine (pronounced "zeen," like magazine) is a self-published, small circulation, non-commercial booklet or magazine, usually produced by one person or a few individuals." Considering that I knew nothing of zine's existence before this event, there was a lot for me to learn. Zines, for a lot of people, are a platform for anyone to speak up for anything. Since all zines are published by the artist or a distributor, zinesters can say anything they want, however they want.
An idea best described by a zinester I interviewed, Juli, "I can say whatever I want and no one will censor it."
The accessibility of zine-making allows for, as Zine Fest organizer Ally Mackey describes, "a low barrier form of getting you work out there." Ally Mackey, who was on a team of eight founding members for the Olympia Zine Fest, saw the rich zine culture of its namesake town and decided to celebrate it. She emphasized the power of community created from producing, trading, and selling zines. In only its second year, Olympia Zine Fest has already begun to awake and inspire the community at large. I found optimistic and exuberant inspiration from 10-year-old zinester, Helen Caddy.
At Zine Fest's main event, Helen was celebrating her first week as a zinester by proudly displaying her debut zine, Before Fireworks. The zine captured a happy reminiscence of her family and their pre-firework rituals. She was most happy about the fact that she had a wonderful piece reflecting on her life and put it out there with no middleman. "You can write a book and put it out there, You don't have to send it in to people who will say 'I don't like this'… I like my book and I'm gonna put it out there!" Not only are zines a way to express oneself, they lend their literary freedom to topics that people are passionate about. There is no better example of this than Dawn Stahura, a librarian at Simmons College in Boston.
"I think it gives me a platform to talk about what needs to be talked about… No one can tell you 'You shouldn't talk about this.'" In her workshop, Dawn spoke to the importance of zines and its sense of community and nurture. She told a story of a woman in Israel whom she befriended through problems they were both enduring, that they shared through their zines. "It's a way to break the silence. The first step to make change is to have the courage to step up." For many, zines are that courage. This year's Zine Fest featured pieces on body positivity, racism, mental health, and feminism. The topics depend solely on what the artist feels they must talk about, as there is no one telling them they can't.
Just as every artist does, zinesters each have their own inspiration or reason to start creating their pieces. For twenty-year zine veteran Jimi Sharpe, it was music. Sharpe, who founded the F.I.B Zine, stated: "I wanted to see what made them [musicians] tick." For twelve-year zine veteran, Sage Adderley, it's therapy: "I think that they [zines] are the most therapeutic way to deal with life stuff." Travis William Fink, a two-year zinester, said: "I do it to stay lighthearted." For twenty-year zinester and Evergreen alum Meilani, it was a reason all her own: "I have a paper fetish that don't stop." Beyond that, Meilani appreciates the value of physical art in a digital age: "I dedicate myself to tactility."  Zines hold more importance than preserving tactility, they solidify humanity in time.
From attending Zine Fest, I learned many things. First of which: what a zine was. Through interacting with people within the zine community, I have learned that this art form gives a lot of artists, or humans in general, an identity. One of the most valuable lessons I learned from zine fest was that anyone can create beauty in this "no excuses" art form. Olympia alone has plenty of resources, including some within the Evergreen community. On campus, there is a zine library in the Student Activities Offices that houses  publications from past student groups. In the greater Olympia area, there are many resources for various needs. The Olympia Timberland library, allows fifty free prints per week as well as free access to all zine making supplies. The library also holds a Zine Club, in which veteran and aspiring zinesters can work on projects and share their work (and so can you). If you don't feel like making zines, there are over two-thousand zines to check out from the Olympia Timberland Library. The accessibility of the art and the inspiration of the community were so encouraging that by the end of Zine Fest, I, a clueless reporter, was making my own zines. If that doesn't prove that anyone can make zines, I don't know what will.
Within these two wonderful days, my zine knowledge went from clueless to competent. I learned everything from zine making to zine distribution with topics ranging from fireworks to space adventurers. Yet the most important wisdom was from activist Dawn Stahura: "[It's] powerful to tell your stories. We are all important, we all have stories inside of us."