Posted
October 12, 2016 by Cooper Point Journal
in News
Protest Follows Year of Controversy over Racism at Evergreen Contextualizing Bias on Campus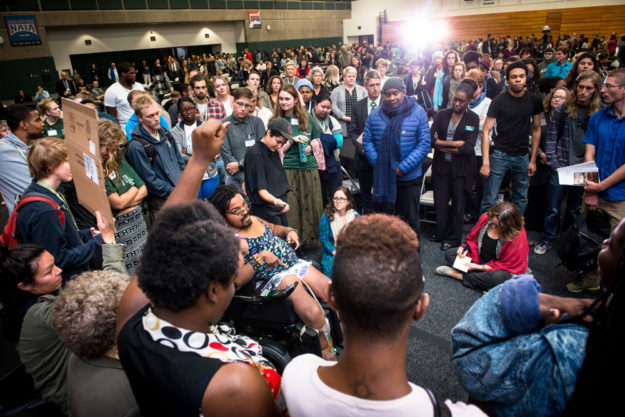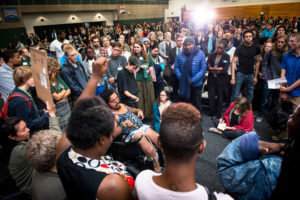 By Forest Hunt
After students interrupted convocation in protest, the guest speaker, Naomi Oreskes, as well as George Bridges and the other administrators facilitating the convocation events chose to continue with the planned schedule and told the student protestors they could speak at the end. This did not sit well with many students who felt the voices of black students should have been prioritized. Halla Warner, a freshman who decided to participate in the protest, said she was upset by the way Orsekes rudely asked them to sit down and that none of the faculty or George Bridges stepped in to stop it.
But this is not the first time black people and students of color at evergreen have felt dismissed and unsupported by the administration. This protest came on the heels of escalating controversy and disagreements about the handling of racism on campus.
For those new to the college it's vital to put this protest confronting the institution's relationship with oppression in context. Due to Evergreen's marketing and progressive reputation many arrive at the school with rose tinted glasses impeding their understanding of the historical dynamics surrounding race that set the stage for these student-activists bold critique at convocation. There has been an ongoing conflict between students and administration over the college's commitment to inclusivity and anti-oppression.
Evergreen's main body charged with confronting issues of oppression on campus is the Bias Incident Response Team (BIRT). A "Bias Incident" is defined by the Southern Poverty Law Center's Teaching Tolerance project as "conduct, speech or expression motivated, in whole or in part, by bias or prejudice" and may be better understood simply as acts of hate that do not reach the level of criminality.
Walker and Ruschet call the BIRT purely symbolic. "They try to sell it as a restorative justice thing, but from the perspective of most students, it's complete and utter bullshit because the urgency isn't there and action isn't done," said Ruschet. It feels like "it exists to appease the negro so they can shut up and be happy," they continued.
Many students on Greener Commons and elsewhere have expressed a want to get involved to help make the body more responsive. Jeff Beulac, a former Representative of The Geoduck Student Union (GSU) explained that the BIRT has two open seats for students filled by the Union, but all such positions are often unadvertised and inaccessible to the majority of students and that the GSU had filled one of the seats last year with someone "who regularly made racist arguments and was often dismissive of POC". For those interested in joining the BIRT this year, inquire at one of the weekly GSU meetings Wednesdays 1:15-3 p.m. in CAB 301.
Evergreen's records documenting the number of bias incidents that happen on campus yearly are virtually inaccessible as they are not posted online or even organized. However, since the start of the Greener Commons forum in 2014 around 19 incidents have been reported there by the BIRT with an increase in the past year. With this rise of these sorts of incidents on campus, emphasis on how the BIRT responds to them continues to increase.
Evergreen's handling of an alleged hate crime in January of this year involving a non-student violently assaulting a police officer and a trans twospirit Evergreen student drew harsh criticism. The college initially only reported that a student had been hit without clarifying their gender identity or responding to the event as a hate motivated. The student who was assaulted told the CPJ as the time, "my rage and fear about the lack of action that Evergreen has taken to prevent further escalation of this hateful violence makes my body shake".
Another hateful act of intense community concern was the appearance of "White Lives Matter" flyers across campus early Fall Quarter 2015. As recently as Fall this year, flyers associated with white supremacist group Identity Europa, with slogans like "protect your heritage", were also found. Despite being a new student, Warner has heard about these incidents and others, and she worries about the environment that allows for sentiments like this. She encourages white students to take responsibility for racism on campus, saying, "don't put it on the black student to always have to speak up alone."
Wendy Endress, Evergreen's Vice President for Student Affairs and Chair of the Bias Incident Response Team initially declined to address the "White Lives Matter" flyers last year. In an email to GSU Representatives, she stated "the implied message [of the flyers] can be interpreted as biased against the #blacklivesmatter campaign and not necessarily black people… it is nuanced and requires some assumptions about intent."
"The flyers were treated trivially at first" said current and former GSU Representative Dylan Macardican, "[Endress] made it seem like… it wasn't nearly as big a deal as students felt it was." Some Representatives pushed back and got an official response from the BIRT, an independent letter of concern from the GSU, and a workshop geared to discussing next steps. However, Macardican told us that it took over two weeks for the school to approve the venue for the workshop which lead to poor attendance, "the administration was not as fast as it could have been" he concluded.
Molly Pumfrey, a former Representative, stated "there was a lot of disagreement on what that response [to the flyers] would look like, but we did ultimately come to an agreement that everyone seemed happy with".
Endress ultimately appeared to change her perspective, posting publically to Greener Commons that  "the message on the flyers has a negative effect on members of our community who we value and want to support." According to Beaulac she also, "apologized directly for her initial reluctance to respond to the the flyers at an event in front of students, staff, and faculty."
In addition to this controversy, the GSU's representative body has come under serious accusations of racism, sexism, and ableism that took place during their regular meetings last year. Representative Macardican said he was regularly not counted as a POC since he was white-passing individual, that POC representatives were dismissed and talked over on multiple occasions, and there were times when motions were introduced while a disabled POC Representative paused while talking.
Pumfrey responded to this stating that "there were some power dynamics and struggles between various groups in the GSU" and that racism in the body was "not obvious to me, but clearly there were people in the GSU who thought it was an issue… and if it was an issue to them then I think it has to be considered an issue." She continued, "I think oppression…exists at Evergreen—racism, sexism, ableism, etc. are all pervasive despite the school painting a picture of itself as an accepting space."
The degree to which that may be true could come as a surprise. In posts on Greener Commons last year community member "corjar26" propagated blatantly white supremacist messages. In  posts titled "Subverting the Cultural Marxist Paradigm" and "the invisible religious/ethnic supremacist elites" they articulated a belief that white Europeans are unfairly prosecuted, disseminated a long list of disturbing anti-semitic propaganda, actively attempted to mobilize like-minded students, and stated that anyone who disagreed was "owed retribution by a white collective." It took several days for the college to remove the posts and account from Commons after a significant amount of shocked community response.
The Southern Poverty Law Center dubbed 2015 as "the year of hate and extremism" and while many like to refer to Evergreen as a "bubble" floating independent of a harsh outside reality, we must face the fact that this community is not impervious to the growing trends of hate being recorded across America.
---
Forest Hunt was a representative to the GSU for the 2013-14 and 2014-15 academic years and is former colleagues with all of the Union representatives quoted for this article.