Posted
December 2, 2016 by Cooper Point Journal
in News
Northwest Post-Election Protests Many Express Fear, Anger, and Frustration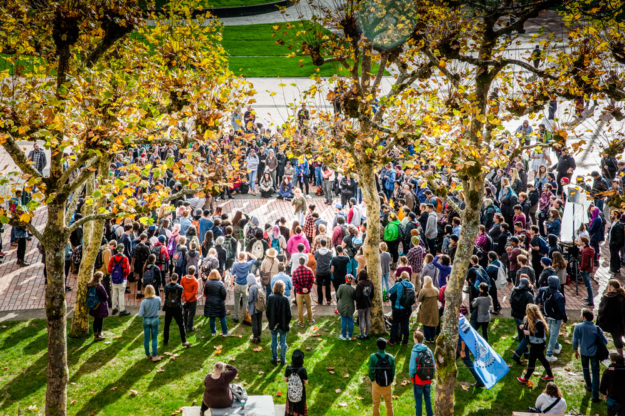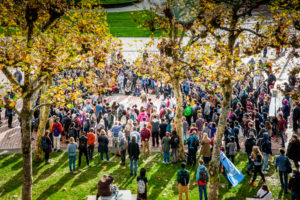 By Rachel Carlson, Chloe Marina Manchester, Tari Gunstone, & Felix Chrome
Since the election of Donald Trump it seems like the meme-worthy craziness of 2016 is only set to continue into the new year. This year has been characterized by contentious battles and increasingly disparate rhetoric on issues from police brutality to fossil fuel extraction. The election seems to have contributed anger and energy to many ongoing political battles, as well as stirring up new fears and oppositions. Reactions varied as much as views in the region do, with some calling the pending Trump regime white supremacist and potentially fascist and others saying they wish to heal divisions in our country. Here are some of the things we saw.
Olympia
November 9, the morning after the election, started with a school walk out for all of the Evergreen campus. As planned, students left their classes at 11 a.m. and gathered in Red Square to voice their frustration over the election results. As a students flowed into the center of campus, there was a rally began in Red Square, featuring many students, faculty, and staff, with differing views but shared frustration.
In one part of Red Square anarchists in masks burned an American flag, using lighter fluid to successfully light the flag after a few failed attempts, and small arguments with others. Meanwhile, other students gathered for about an hour in the square taking turns speaking on a megaphone.
The general consensus was that white voices were not the voices people wanted to hear, as anyone with white privilege was in less danger than people of color, and that discussion became an important point in what students shared. After voicing concerns in the square for around an hour, students then moved to disrupt and become involved in a board of trustees meeting that was being held on campus at the same time.
Students marched en masse to the library building where they filled the room the meeting was being held in until it was full, with students filling the hallway outside the building as well. Students successfully disrupted the meeting that was taking place, asking for their own serious concerns to be taken into consideration and recognized. The students questioned the board members and president for around an hour before the board members began to say that they needed to leave to be present at the ribbon cutting ceremony at Purce Hall. The students asked for their concerns and needs to be recognized and not to be cut off, at which point they acquired the presidents and one board members phone numbers.
The students brought up issues like neo-Nazi presence on campus and the lack of action to prevent crime and discrimination against students. The board members eventually made their exit, and the students followed to Purce Hall.
The demonstration continued at Purce Hall. What started with a ceremony and Denny Heck speaking about our former President Les Purce, was soon interrupted by students who led the protest. Students went on stage to criticize the lack of communication between students and the administration, asking for students to have a louder voice when in the inner workings of the campus. After the demonstration at Purce Hall students disbanded until 4:30 p.m. when students and faculty met up for a discussion about what was to be done about the issues at hand. Pizza was provided and the meeting went on for over an hour.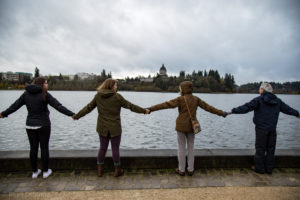 The night before, when it was announced Clinton called Trump to concede the election, a small group of people protested in downtown Olympia. This group, mostly in black bloc (a strategy used by many anarchists who wear black and cover their faces to obscure their identities from police and others) smashed windows, including those of the "123 4th Apartments", a bank, and the city hall, lit roman candles, and got into a small fight.
In the days to follow, residents of Olympia continued expressing anger and concern in many different ways. By Friday, Nov. 11, there were at least three protests happening in Olympia, filling downtown with hundred of people and chants of "No Trump, No KKK, No Fascist USA."
That afternoon there was a rally in front of Planned Parenthood, defending abortion rights, which many see as particularly threatened by Trump and his very conservative Vice Presidential pick Mike Pence. There was also a blockade of a train carrying fracking proppants to North Dakota and protest in solidarity with those resisting the Dakota Access Pipeline, and a general anti-Trump rally at the steps of the capital.
As dusk fell, these actions blurred together as a large meandering march blocked the traffic roundabouts leading to the westside and created congestion throughout downtown. Chants and signs ranged from "Black Lives Matter" to "Water is Life."
On Nov. 21, a group of nearly 1000 people had a different reaction, they tried to encircle all of the Capitol Lake in downtown Olympia, holding hands. The event's organizers, "Stronger Together Thurston County", stated that they were trying to bring unity and peace to the community after a divisive election. While the group shares its name with a Hillary Clinton slogan, they stated this was not an anti-Trump event, but a time for reflection and healing.
Seattle
On November 9, we as a nation decided that the world was ending and we all took different measures to deal with it, a protest in Seattle was scheduled for 4 p.m. at Westlake Park and lasted well into the night. I was there, chanting and marching, from 3:30 to around 8:30 that evening.
On the Wednesday after the election, everyone was reeling. I woke up sad, hungover, and with thirty minutes to get to class, for the hour it would last before the walkout scheduled at eleven on the Evergreen campus. It was a small protest, but this is a small school. The protest on campus was centered for the most part around marginalized people and giving them a space to share fears and feelings.
At around 1:00, I heard about the protest that was set to take place in Seattle and by 1:15 I had found a ride in a full car, we got there as it was starting. The protest lasted in Westlake park for close to an hour. There were all kinds of people with all kinds of signs there. One notable sign was a close to life size cardboard cutout of Trump as Hitler. There were parents who brought their kids, holding their hands or wearing their babies in slings. There were socialists (the protest was organized by Socialist Alternatives), anarchists, college students, older folks, and people of many different races who all came together for a common reason, to protest President-Elect Donald Trump and the things he has said he stands for.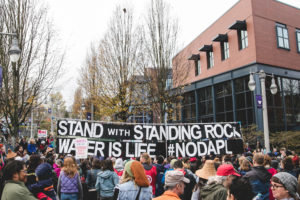 Tacoma
At least a thousand protesters joined in chanting "Water is Life" in solidarity with the Standing Rock water-protectors at an anti-Dakota Access Pipeline (DAPL) protest in Tacoma on Saturday, November 12. The crowd marched along Pacific Avenue in downtown Tacoma and then gathered on the University of Washington campus.
Among many indigenous tribe members from Western Washington was Rachel Heaton of the Muckleshoot Indian Tribe who acted as one of the protest's main organizers. She and other tribal members shared their thoughts and encouraged the crowd to fight against the fossil-fuel industry. The Sacred Water Canoe Family played songs in a drum circle intermittently and a tribe member asked the crowd to pray or hold a moment of silence on their knees for the community at Standing Rock.
A Sioux member visiting Washington urged attendees to act in resistance to the fossil-fuel industries in small but effective ways like pulling their bank accounts from big banks like Wells Fargo, U.S. Bank, Chase, and Bank of America who financially support the DAPL.
Also contributing to the conversation about challenging fossil fuels and big business on a local level were RedLine Tacoma activists, who are currently working to stop the proposed Liquified Natural Gas facility in the Port of Tacoma. The gathering created a connection between the concerns of Standing Rock protesters for clean water and the concerns of local citizens for citizen safety in the face of potential leakage of dangerous contaminants and extreme flammability of LNG.
As well as the increasingly militarized repression of those protesting the DAPL at Standing Rock, Trump's election has contributed energy to noDAPL solidarity protests, as many believe his administration could increase support for pipeline construction and fossil fuel extraction.