Posted
March 2, 2017 by Cooper Point Journal
in News
The Fight to Defund DAPL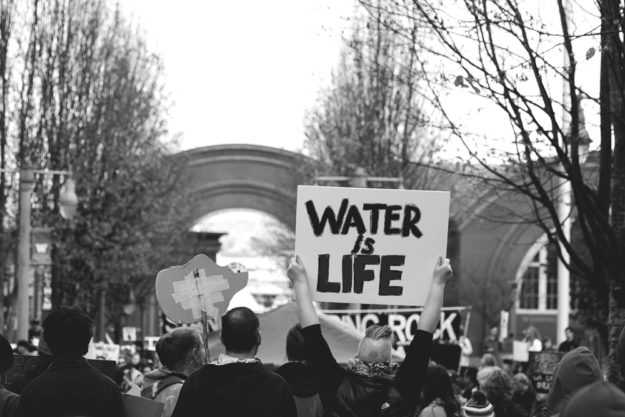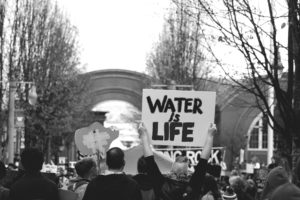 By Tari Gunstone
On Wednesday February 8, the Seattle city council voted unanimously to divest the city's annual funds of nearly four billion dollars from Wells Fargo over concerns of the bank's funding of the Dakota Access Pipeline (DAPL) in addition to questions regarding the bank's transparency and integrity. The Ordinance of Socially Responsible Banking, that will divest the city's funds from Wells Fargo when their contract is up in 2018, was proposed by Matt Remle of the Lakota Tribe, a member of the Defund DAPL coalition. Remle and Defund DAPL worked in close partnership with Seattle councilmember Kshama Sawant to bring the ordinance to vote.
Remle and Sawant worked together previously when she sponsored Remle's plan for an indigenous people's day in Seattle. Sawant has been a consistent supporter for indigenous people's rights, stating of this ordinance that, "This is the least that elected officials can do to put their money where their mouth is." The ordinance was co-sponsored by two other council members, Tim Burgess, and Deborah Juarez, a member of the Blackfeet Nation and first indigenous woman to be elected to the council. Many rallies to support the divestment proceeded in the weeks before and a large support turnout at the city council meeting was rewarded with all nine of Seattle's city council members voting in approval.
The victory of Seattle's divestment was bittersweet following the U.S. Army Corps of Engineer's Tuesday approval of the pipeline's final construction. The 1.5 miles of pipeline remaining to be built will run under Lake Oahe, threatening the Standing Rock Sioux Tribe's sacred burial land and clean water access. Donald Trump's order for an expedited review of the pipeline two weeks ago succeeded in undermining the delay posed by the environmental impact report that Barack Obama issued and the U.S. Army Corps of Engineers denial of the final construction permit back in December 2016. Rachel Heaton, a member of the Muckleshoot Tribe and a Defund DAPL leader, told me that none of them were surprised by this news, "We looked at it as balance. Yes we had this victory that will hopefully cause a ripple effect of cities divesting, but also our hearts are breaking as they begin drilling. But you have to celebrate your victories and carry on and help with future fights for water and mother earth."
Heaton traveled to Standing Rock three times in 2016, even bringing her children with her to participate. For her it was a life-altering experience. She worked for her tribe for over twenty years but never focused on the environmental issues threatening her people's livelihood. "Standing Rock taught me and so many others to take the fight home," Heaton told me, "we were the First People of this nation to take care of the land and we are still the people who will teach others how to take care of it." She listed off some of the major environmental issues affecting the Northwest like The Port of Olympia's transport of fracking supplies and Kinder Morgan's petroleum tankers that will travel from Alberta through the Strait of Juan De Fuca. "As we speak, hundreds of thousands of gallons of raw sewage is leaking into the puget sound off of Discovery Point. The things that we have going on so close to us– it's crazy that we aren't really paying attention."
Heaton felt it necessary to show her children what it looked like to protect the land to inspire them and generations beyond them, "For my girls, I want them to be able to say, 'I went to a mountain and saw the snow and watched the river flow, rather than once upon a time there was a mountain and a river here.'" In addition to Standing Rock bringing attention to mistreatment of Mother Earth, Heaton observed that it has also put indigenous people back out in the open and in some ways revitalized aspects of tribal culture; "When you are Native in the city, your culture can get lost with all the distractions. So participating in the ceremonies is a revitalization of the language, the songs, the rituals, the spirituality." She shared how the tribal diversity at Standing Rock has enabled a new kind of unifying partnership for indigenous people. The Defund DAPL coalition of Seattle alone has member representation from over five tribes across the country. Heaton emphasized the importance of cultural differences among tribes, but said, "Ultimately we are all here fighting for Mother Earth, saving the water. That's why we do what we do." With Standing Rock becoming a fight beyond the Standing Rock Sioux tribe alone, Heaton reported that the greater awareness gave indigenous people the platform to tell non-indigenous Americans, "Hello, we are still here, you can't ignore us forever."
While Seattle's divestment from one of the DAPL's biggest financial supporters can't stop it's builder, Energy Transfer Partners, from continuing construction, it was certainly a loud message to Wells Fargo and the other 17 financial institutions backing DAPL.
As the city council vote approached, Wells Fargo scrambled to improve their image in Seattle's eyes by promising to donate $500,000 to five of the city's nonprofit groups that work to revitalize Seattle neighborhoods. While the bank is unrepentant of its support of DAPL and claims it cannot rescind any financial contribution toward the pipeline as it is bound by contract to Energy Transfer Partners, their commercial banking manager for Washington state, Mary Knell, told Seattle's NPR affiliate, KUOW, that the bank has, "enhanced our due diligence on projects such as this to include more research into whether indigenous communities are affected and that they have been properly consulted."
The promise of future due diligence from Wells Fargo is unlikely to renew Seattle's trust in the financial institution. While DAPL was at the forefront of the city's decision to divest from Wells Fargo, the Ordinance for Socially Responsible Banking also dings the bank for their recent scandal in creating more than 2 million fake accounts under customer's names in order to meet certain sales quotas to receive major financial bonuses.
With the Seattle's Wells Fargo contract ending in 2018, the city has some time to figure out who will handle their funds. There is concern that no other major national bank will fit their desire for socially responsible banking while smaller banks like credit unions may not have the capacity. There is consideration for creating a state or city owned bank, or even a consortium of credit unions. Seattle's move toward socially responsible banking has inspired the city of Davis, California, which divested its funds from Wells Fargo immediately following Seattle's decision. Larger cities such as Philadelphia and Minneapolis have voiced an interest in following suit.
The Defund DAPL coalition hopes that the victory in Seattle sends waves of action not only to cities but to individuals who hold bank accounts with DAPL supporting institutions. Among DAPL's 17 financial supporters are multiple banks with branches in the Northwest such as US Bank, Bank of America, Chase, CitiBank, and of course Wells Fargo. Thankfully, the Northwest is also well endowed with many credit unions to offer a better alternative to customers. When I asked Heaton what the Evergreen community could do to help continue the fight against DAPL at this time, she said to start simple by switching your banks.
I pulled my money from a DAPL funding bank last Fall to stand in solidarity with the water protectors at Standing Rock. It is was so quick and easy for me to physically close my account with US Bank and transfer my money to Olympia Credit Union that I seriously beat myself up for not doing it sooner. However, there are some tricks I learned that made the process easier. You don't want to be caught in a limbo of having no access to your money while making the transition.
Start by opening an account at a credit union; there may be a member fee of $25 that you will have to deposit into your savings account and keep there until you leave the credit union, so bring cash or a check. You may want to deposit more as a buffer if you need to transfer any automatic payments (see step #2) that will actively pull money within the next week or two. Have your ID and social security number handy for your application to join the credit union.
Transfer your online automatic payment information. Your new debit card should arrive in the mail within 1-2 weeks. Using your new bank and debit card information, transfer all your auto payments online from your old bank information (like student loans, job paycheck deposit, or cell phone bill auto pay).
Go to your DAPL funding bank and tell your bank teller that you would like to close your account and withdraw all money. They will likely respect your privacy by not asking why, but in the event that they do, here's your chance to state your reason. Keep in mind that your teller is not the one making the calls regarding the bank's financial decisions (stick it to the man at step #4). You can receive the money from your account in cash or check, both will be easy to transfer to your new account at a credit union.
Follow up by calling the CEO of the bank to tell them you just closed your account at their bank because of their funding of tribal rights violations and environmental injustice.
Wells Fargo
CEO Timothy J. Sloan
timothy.j.sloan@wellsfargo.com
866-249-3302
U.S. Bank
Chairman and CEO Richard K. Davis
richard.davis@usbank.com
Brand, Corporate Social Responsibility, Sponsorships:
Susan Beatty
susan.beatty@usbank.com
612-303-9229
JPMorgan Chase
Chairman and CEO Jamie Dimon
jamie.dimon@jpmchase.com
212-270-1111
Bank of America
President, CEO, and Chairman Brian Moynihan
brian.t.moynihan@bankofamerica.com
Executive Relations, Office of the CEO:
Matthew Task
813-805-4873
Citibank (CitiGroup)
CEO Michael Corbat
Michael.L.Corbat@citi.com
212-793-1201