Making Gold Exhibit Celebrating Works by People of Color Opens in Evergreen's Student Art Gallery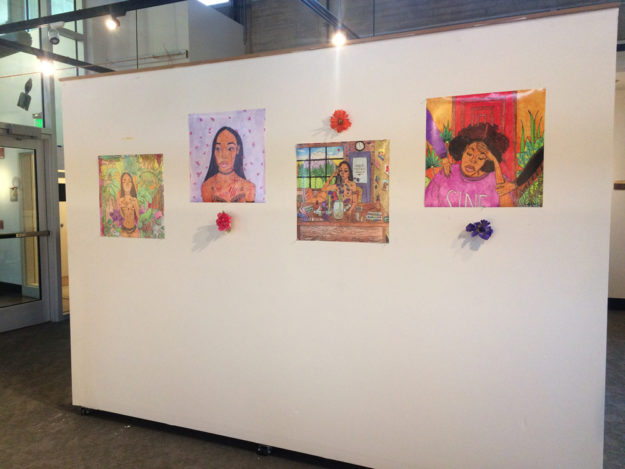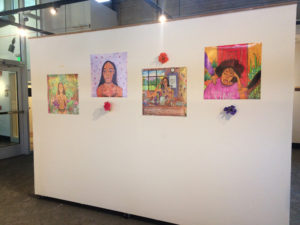 By Ruby Love
Evergreen's Student Art Gallery opened its newest show, Making Gold, on March 6, featuring the work of local artists of color including current and former Evergreen students! The exhibit features the work of more than twenty different artists, working in mediums ranging from written installations to photography to woodworking.
Making Gold, which takes its name from a Rupi Kaur quote, centers the artistic work of people of color in the Olympia/greater Puget Sound area. Each piece is paired with a short statement from the artist which illuminates the intention behind their work and the ways it intersects with issues like identity, history, and violence.
Entering the space, you're immediately aware of a large installation piece by Oomung Varma – a white cube, suspended by thick brown twine, hovering over a white exhibit pillar. The piece, titled If we leave our body, How far can we go?/What will we find? features a small photograph placed on metal spokes between the two white boxes of cube and pillar. The tension is palpable – it feels as if at any moment, everything could come crashing down, pinning the photograph (and its subject) between the two heavy blocks of white.
Moving throughout the small gallery, you're drawn into small pockets of space which artists have made their own, like Francis Fong's display of stunning handmade wooden utensils which were made by the artist in order to "better understand Chinese food and my Chinese self through the lense of crafting tools for eating." In addition to the aforementioned installation and woodwork, there is incredible photography, drawing, painting, writing, ceramics, and more – plan to spend some time. It is tempting to describe each and every piece in Making Gold; there wasn't a single one that didn't make me glad to have visited. Suffice to say, I hope everyone reading this got the chance to see this exhibit before its close on March 13…if not, you have another chance!
On the evening of March 17, the gallery will be hosting Making Gold: Grand Celebration, an evening of "mingling with the artists, eating great food and watching some even greater performances!" Running from 6:00 to 10:00pm, the celebration will feature performances by Scarlett Pedersen, Summer Azim, and Khadija Hassan, with performances beginning at 8:30. For those who haven't been, the Student Art Gallery is on the third floor of the CAB, past The Flaming Eggplant.