Posted
April 10, 2017 by Cooper Point Journal
in Community
Earth Month Kicks Off A Look Inside the Procession of the Species Studio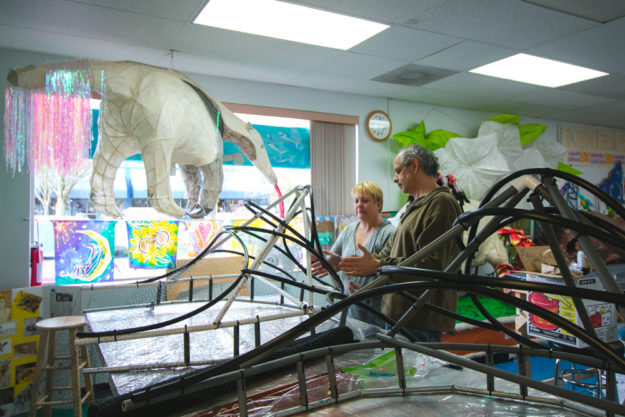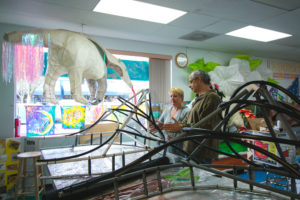 By Tari Gunstone
On Saturday, April 1, environmental groups and earth-loving individuals gathered at the Capitol steps to kick-off Washington's first official Earth Month celebration. The campaign to expand Earth Day, April 22, to the entire month of April was spearheaded by a father-daughter duo, David and Whitney Sederberg. The campaign's motto, one day is not enough, speaks to the Sederbergs' feeling that one day to celebrate the earth, our home and source of sustenance, is insufficient. One of their signs read, "even groundhogs get a day."
The idea started when the family was driving during Seahawks season and sparked a conversation in reaction to all the 12th man flags lining people's yards. They asked themselves what they felt loyalty toward and what it might look like to share that sense of passion. Last year, they distributed one hundred earth flags to schools and businesses and contacted the city of Olympia to ask about hanging them up downtown for Earth Day. With much back and forth communication and no concrete answers, they decided to go out on a friday night and put them up anyway without permission.
This year, not only do they have permission from the City, they also have a proclamation from Governor Inslee declaring April as Earth Month for all of Washington. The Sederbergs hope that the establishment of Earth Month will provide a successful opportunity for people of all ages to get excited about celebrating and volunteering as Spring rolls around each year. When I asked Whitney Sederberg how her classmates respond to Earth Day or Earth Month, she says only about half of them are interested, "It's so much easier to not do anything, but then no change occurs." Earth Month's website, earthmonthwashington.org, is a hub for individuals or communities looking to participate in earth-loving volunteer work around their country over the 30 days of April. It also provides momentum for environmental clubs and nonprofits seeking greater visibility and volunteer participation in their communities.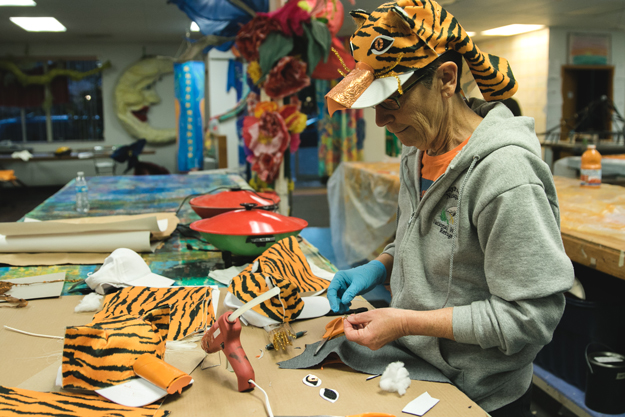 Olympia's most popular Earth Day (now Earth Month) celebration is the much-loved Procession of the Species that has been a staple experience since 1995. Now in it's 23rd year, the Procession's founder, Eli Sterling, and his crew of artists, musicians, and imaginative volunteers are busy as ever constructing their costumes and magical animal creations in their art studio on Water Avenue.
Sterling started Earthbound Productions in 1991, the engine that birthed and committed to power the Procession for 20 years, or as Sterling says, "a whole generation." The lasting intent was to, "elevate the dignity of the human spirit by enhancing the cultural exchange that we have with each other and with the natural world and to do so through imagination, creation, and sharing." The significance of practicing this intent publically in the city was for Sterling a chance to, "replicate what it means to be in the natural world in an urban corridor." While the parade is organized and has rules (only three, and they are very simple; no written words, no motorized vehicles, and no pets), Sterling tells me that the experience is not intended to be directive for the experiencer but instead aims, "to invite a layering of cultural expression."
The celebration has become one of the largest and best known annual Earth Day celebrations in the Northwest with people traveling from different cities and even states to watch the festivities. People are enthused by the Procession, which Sterling admits is part of the success of it, but he claims, "there is a difference between cultural exchange and entertainment. If it was solely entertainment it wouldn't have lasted because it would only be as good as the next best form of entertainment that would replace it." What makes the Procession of the Species so wholly unique and special is its committed dedication to a specific intention and its invitation for individuals to make it happen through episodes of sharing. While many Olympians only view the Procession as a parade, it is every bit as much a community art studio.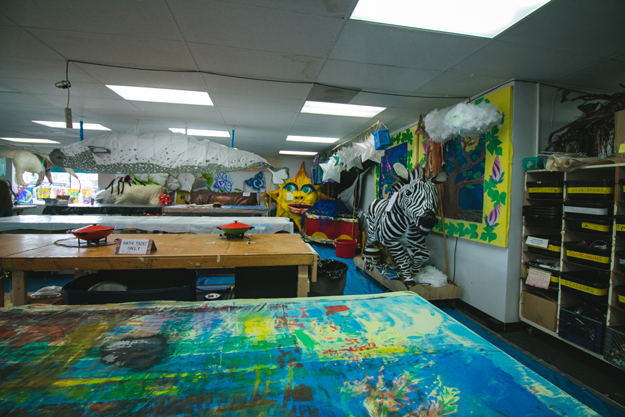 Walking inside the studio felt like visiting a natural history museum filled with flashy, taxidermied papier-mache animals. One of the builders behind these dramatic displays is Jerry Berebitsky, whose background in Opera production has provided him with valuable skills in aesthetic and functional production. Berebitsky initiated himself into the studio nine years ago by constructing a lifesize pink elephant out of some leftover fabric he had lying around the house. The elephant's head is mounted on a wall along with an Anglerfish, a praying mantis, and the beloved smiling sun that debuted in the very first Procession and keeps on making a comeback to please its dedicated fans. Last year, Berebitsky constructed a peacock with a sixteen foot wingspan. He tells me that he knew he wasn't going to be able to finish the peacock by himself when he made the plans for it, "so I laid out pieces of it and scraps of fabric and waited to see if the people that walked in the door would make it happen." Indeed, many helping hands gradually tied together the small scraps of vibrant blue fabric that made the peacock body come to life. Berebitsky doesn't take the creations outside to test their ergonomics until the morning of the Procession. There's often last minute disassembling and tweaking to make the creature walkable, but that is all part of the excitement of the question, "is this going to work?" that Berebitsky finds magic in. "I like that failure is an option," he says with a smile.
This year, the peacock will rise again, but so will many other smaller versions of it that will be much more maneuverable. While I visited the studio, Berebitsky trained a volunteer on constructing the PVC pipe skeleton of the peacocks while another group of volunteers occupied multiple tables to construct tiger themed costumes for their percussion and dance group, Samba OlyWa. The weekend consisted of multiple workshops like creating luminaries and papier mache masks. In addition to these designated classes, there is always open studio time where anyone can walk in the door and get started on a project of their own or help with one in process. The studio acts as a hive of activity where ideas can be explored, resources are shared, and goals are supported by a communal context.
The 20 year goal for the Procession has been reached, but Sterling is still in the studio energetically digging through file cabinets, checking in on the artists at work, answering phone calls, and sending emails out in the dozens to donors who help keep the Procession going. He admits to me that he has tried handing off his baby on multiple occasions but the effort has always gone flat. The unique and organic nature of this experience is difficult to imagine being steered by anything but the zeal of Sterling. It's an animal in itself – high maintenance and resource intensive. Sterling tells me the studio requires about $15-40,000 a year to sustain itself. He explains how rare it is for a community art studio to exist that is free and open to the public.
He hopes that the Procession's two decades of existence in the community has empowered the next generation to renew the intent and carry the tradition forward. But, until that takes shape, you will probably find Sterling waltzing through the parade in his rhinoceros costume he's worn every year since the Procession's inception, knowing he's helped orchestrate another year of jubilant celebration of the natural world in the streets of Olympia.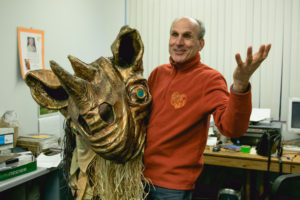 Many people ask how parading animals around helps promote environmentalism. To this Sterling shares a story about a young boy whose mother dragged him along to the studio back in 1995. He was bored, but Sterling gave him the opportunity to envision and construct any animal he desired. They ended up building a rhinoceros together, the very foundation of the costume Sterling wears in the parade. The boy learned about the shape of the rhino's horn, how endangered they were because of that horn, and what other distinct characteristics they have. "When you build something, you have to learn it first, and then you grow to love it, and when you love something, you protect it," says Sterling.
Festivals energize and remind us that we are still here. They feel especially precious in times like now when we feel disappointment or worry about our current human situation. The Procession of the Species engages individuals to artfully express their love for the natural world without judgement. "I've had the unique position of being able to show men that they can get out there and throw glitter around," Sterling says. The Procession's Samba group celebrates the diversity of ages and body types by giving women a space to feel uninhibited and true to their creative energy. The many workshops leading up to the species are designed to be fun for both kids and adults from beetle costume-making to explorations in 3D printing.
When I asked some volunteers gluing felt eyes on tiger-striped baseball caps who they felt was missing in this community, they said people like me – young people in their 20's and 30's. Perhaps it was this sincere request for my participation from the smiling glue-gunners or the fact that Sterling gave me a big hug after our interview like we were old pals, or maybe it was just the utterly irresistible voluptuous glitter lips of the giant sun eyeing me from the corner of the studio, but I feel compelled to go back and participate in this invitation. The heart and soul of this place is celebration for our communities, both cultural and natural, and reveling in the joy that comes with that.
To participate in the Procession of the Species, check out the online calendar (procession.org/calendar.php) to sign up for workshops or stop in during open studio hours. The door is open to anyone and everyone and is conveniently located right on the corner of 5th ave and Water St., right after you cross the bridge.