Posted
April 26, 2017 by Cooper Point Journal
in News
Northwest Detention Center Detainees go on Hunger Strike Supporters Set Up Camp Outside the Immigration Detention Center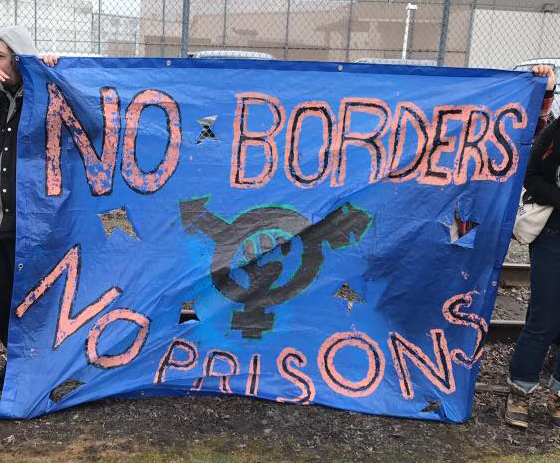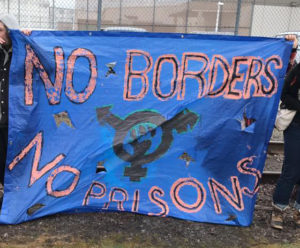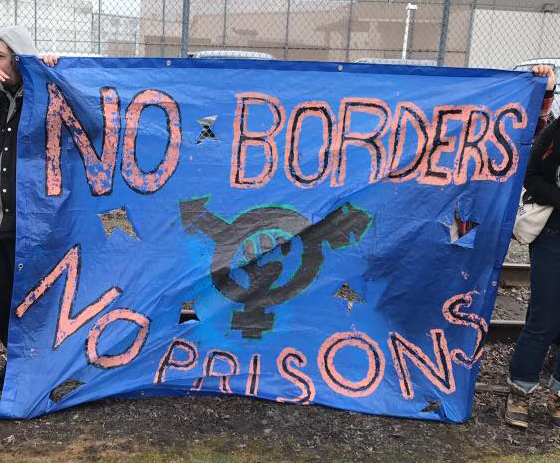 By Felix Chrome
On Monday, April 10, inmates at the Northwest Detention Center in Tacoma Washington began a hunger strike in protest of what they consider to be inhumane conditions in the Detention Center and unjust long detainment periods prior to seeing a judge or being assigned a court date. Some inmates with jobs in the Detention Center, for which they are usually paid one dollar per day, refused to work along, and many are refusing to purchase items from commissary along with the hunger strike.
The strike began with just over 100 inmates and by April 13, Northwest Detention Center (NWDC) Resistance stated that 750 inmates had joined the hunger strike, representing over half of the inmates estimated to be currently held in the Detention Center.
At the beginning of the strike inmates circulated a list of demands in the Northwest Detention Center. These demands included higher quality food, lower commissary prices, improvements in hygiene such as the ability to wash clothes, increased recreation time, better access to medical care, increased wages for working detainees, and improvements to the speed of legal processes.
A letter written, originally in Spanish, by someone currently being held in the Northwest Detention Center, released on April 12, addressed this final demand, writing they want "not to be detained for so long, if we are to be deported so be it and to be given a chance to stay and pay bond, or any other way possible to remain. We don't want to be encaged for so long, we believe this is unjust."
The detainee explained the current situation of long detentions prior to court dates writing, "All cases at a minimum are taking at least month and a half to two months just to see a judge who will only read the charges against you, and then you wait for another month to give you a court date, and then decide whether they will deport you or you will get a bond." Maru Mora Villalpando, NWDC Resistance organizer echoed this, saying "They really do not have access to due process."
Non-incarcerated supporters of the hunger strike organized rallies in front of the Detention Center for everyday the hunger strike continued. Some activists involved in the issue set up an encampment in front the Center, sleeping in tents, in order to have a continued presence twenty-four hours a day for the duration of the strike. Although it was reported that most detainees began eating again on Friday, April 14, the encampment continued until Saturday.
Detainees requested support from those outside the Detention Center, as one wrote in a letter, "We ask the community that is outside to help however they can, help accelerate our immigration process to either deport us or release us on bond. This [prolonged detention] is harming us physically, mentally, morally, and emotionally to people detained and to our families with the simple act of keeping us detained for too long."
Some family members of those currently held in the Detention Center joined the rallies and encampment outside. One child of a detainee addressed the crowd, then spoke to their father directly, saying "Dad if you are seeing this right now, I love you, and I am going to be here for you."
Villalpando highlighted the importace of 'being there' for those incarcerated saying, "The reason why we decided to stay the night is because we wanted to make sure that GEO and ICE know the people inside have real support, real solidarity. We also want to watch out for any kind of retaliation." They said that along with getting messages of those on hunger strike out to media, and making sure attention was focused on the protest, they had legal teams prepared to aid inmates who faced retaliation for the strike.
On Wednesday April 12, Villalpando said the hunger strike has already seen results, telling Pacifica Radio show Rising Up, "People who have been sick are finally being seen by a doctor and people who had their court dates postponed are finally being scheduled."
The Northwest Detention Center is a privately owned and run by the GEO group, one of the largest private prison companies in the United States. According to the GEO Group's website they currently oversee "the operation and management of approximately 75,000 beds in 64 correctional and detention facilities." The Northwest Detention Center has a maximum capacity of 1575, although some detainees have said they believe at times 1700 people have been detained there, and the facility was overcrowded. Currently there are an estimated 1450 people incarcerated there.
There is currently a class action lawsuit against GEO group alleging that forcing those detained in private immigration facilities to work for a dollar or less per day is slavery, violating federal law. The lawsuit also alleges some detainees were made to work without any compensation, and were threatened with solitary confinement or other punishment if they refused. The class action lawsuit could impact up to 60,000 immigrants who current of former detainees in facilities operated by GEO Group.
There was another hunger strike at the Northwest Detention Center in 2014, which lasted 56 days and garnered a great amount of media coverage. NWDC Resistance began in order to support the inmates in the Detention Center during this strike and has been organizing actions against the Detention Center and deportations generally ever since. In 2014, activists who were not incarcerated also blocked buses taking detainees to be deported, and disrupted other transport.
A representative of GEO Group refused to comment on the hunger strike, referring us to Immigration and Customs Enforcement. ICE said they would provide us with their public statement on the issue, but did not do so before publication of this article.