Posted
April 26, 2017 by Cooper Point Journal
in Community
Rising Spring Convergence Conference Brings Discussion of Pipelines, Colonization to Campus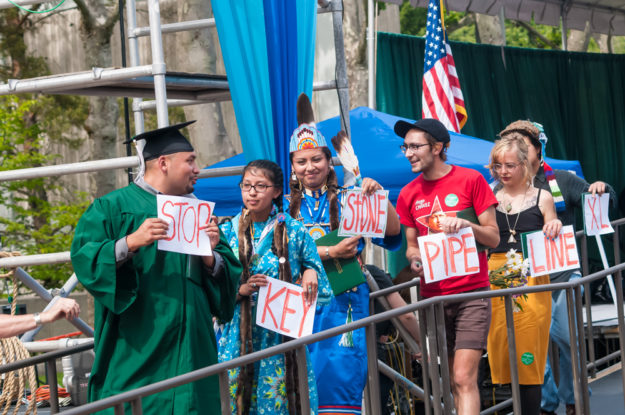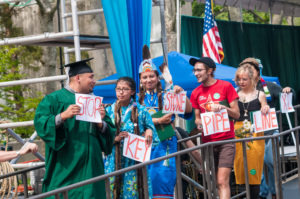 By Sylvie Chace
The Black Cottonwood Collective is hosting the Rising Spring Convergence, an event spanning three days, from April 21 to the 23. The Rising SPRING (Stopping Pipelines and Resisting Infrastructure on Native Ground) Convergence is an event and opportunity to listen to and learn from indigenous water protectors. The experiences of those on the frontline of this struggle will be highlighted and shared in workshops, presentations, and discussions. Each day brings events and workshops that require no registry to attend.
When asked about the significance of the convergence, The Black Cottonwood Collective stated, "Though the camps at Standing Rock may have been evicted, the struggle against fossil fuel infrastructure continues. Every day that passes is another day where pipeline planning and construction continues. There are multiple fossil fuel infrastructure projects slated for the Pacific Northwest and, as in Standing Rock, local Indigenous folks are at the forefront of the resistance. The liquefied natural gas terminal proposed for the Port of Tacoma is opposed by the Puyallup Tribe; the proposed oil terminal slated for so-called Grays Harbor is opposed by the Quinault Nation; the Kinder Morgan Trans Mountain Expansion in is opposed by a coalition of First Nations peoples across so-called Canada and the US."
Author of 500 years of Indigenous Resistance, Gord Hill, will kick off the convergence as the keynote speaker on Friday. Hill's book offers a concise history of the colonization of the Americas and the resistance that came with it. Saturday involves workshops held by the Water Protector Anti-Repression Crew, a committee who stands against state repression of those who defend water by providing education and support. They will be hosting a workshop entitled The Frontlines are Everywhere: Building Strong Movement Defense. Direct Action trainings will also be held on Saturday, providing 101 information on what direct action is and how to participate, as well as supporting roles for those who want to participate in actions but don't know where their skills can be best utilized.
Sunday includes workshops from organizations such as Blue Mountains Biodiversity Project, founded in 1991 in eastern Oregon. The 24-year-old organization will host a Field Survey Training. Also on Sunday, Director of Idle No More Washington, Sweetwater Nannauk, will hold a Decolonizing Our Activism workshop. Idle No More Washington is an organization that celebrates native culture and shares native news as well as stands in solidarity with all First Nations people.
The Black Cottonwood Collective shared their intentions with the event and where they're coming from when discussing indigenous resistance,
"The Black Cottonwood Collective (and friends) have organized the Rising SPRING Convergence in the hopes of creating a space where Native and settler folks active within ecological struggles can come together to network and to share skills and knowledge.  But rather than having just another white-dominated environmental conference, we wanted the space to be grounded in an anti-colonial framework.  At the convergence, settlers can learn more about the both the history of Indigenous resistance and how they can support the contemporary resurgence of anti-colonial struggle.  Attendees will come together to learn about the multiple local fossil fuel infrastructure projects "coming down the pipe" and learn how to fight back with solidarity and direct action."
The organizers of the convergence describe themselves further on their website, risingspring.org, their public statement says,
"We are a loose coalition of students and activists living in occupied Medicine Creek Treaty territories known as Olympia, WA. We are settlers who aspire to support and act in solidarity with Indigenous communities impacted by colonialism and extraction industries.We are making an effort, as organizers, students and individuals who care about land, water and people, to work with and learn from local native communities. Through organizing this convergence, we want to build broader connections, friendships, and networks."
The convergence will be held at locations across the Evergreen campus, with varying times for the events. Keep on the lookout for flyers or stay in touch with the public Facebook event for updates on the specific times that each workshop will occur. The Black Cottonwood Collective also encourages feedback via email at thebcc@riseup.net, as well as any interest in volunteering at any of these events. On their Facebook page the group addresses what they are aiming to accomplish with this convergence, saying:
"We want to explicitly distinguish between what we are doing (organizing spaces and moving resources) and what we are not doing (leading movements). We are coordinating this space for Native and non-Native activists to share information and experiences. We act as stewards of the space, but not as leaders of it."
This convergence aims to disrupt colonial domination and support the solidarity of indigenous people. The Black Cottonwood Collective states: "We seek a shared path forward in these overwhelming and frightening times." All identities are welcome at these workshops and entrance tickets are by donation, with no one turned away for lack of funds.