Spring Arts Walk Olympia Welcomes Spring with the Weekend Long Event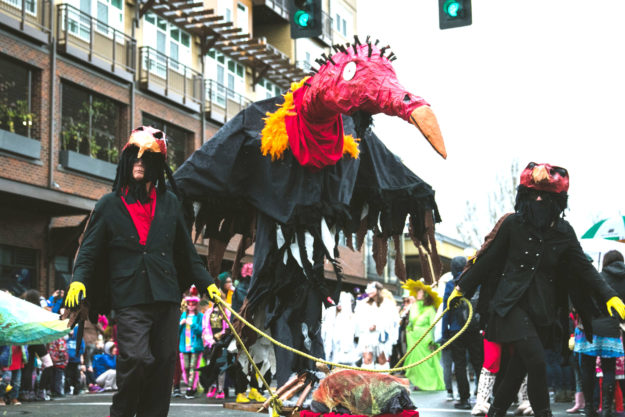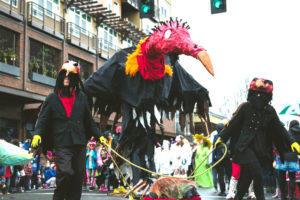 By Ruby Love
Photographs by Tari Gunstone
Spring Arts Walk kicked off this past weekend, flooding downtown Olympia with crowds of people. A long-overdue break in the rain on Friday likely contributed to the crowds, as the city seemed to wake from its long hibernation.
We started off our art-seeing, music-listening marathon on Friday evening at Salon Refu, where Washington artists Peter Scherrer and Jean Nagai were celebrating the opening of their joint show. Nagai is an Evergreen grad and a former Cooper Point Journal cover artist, so we were especially excited to see his new work! While they work in similar mediums, Scherrer and Nagai work in vastly different styles, even down to their color choices; but their pieces played off of each other nicely. As usual, it was about a hundred degrees in Salon Refu, and packed with people, so we headed on to other things.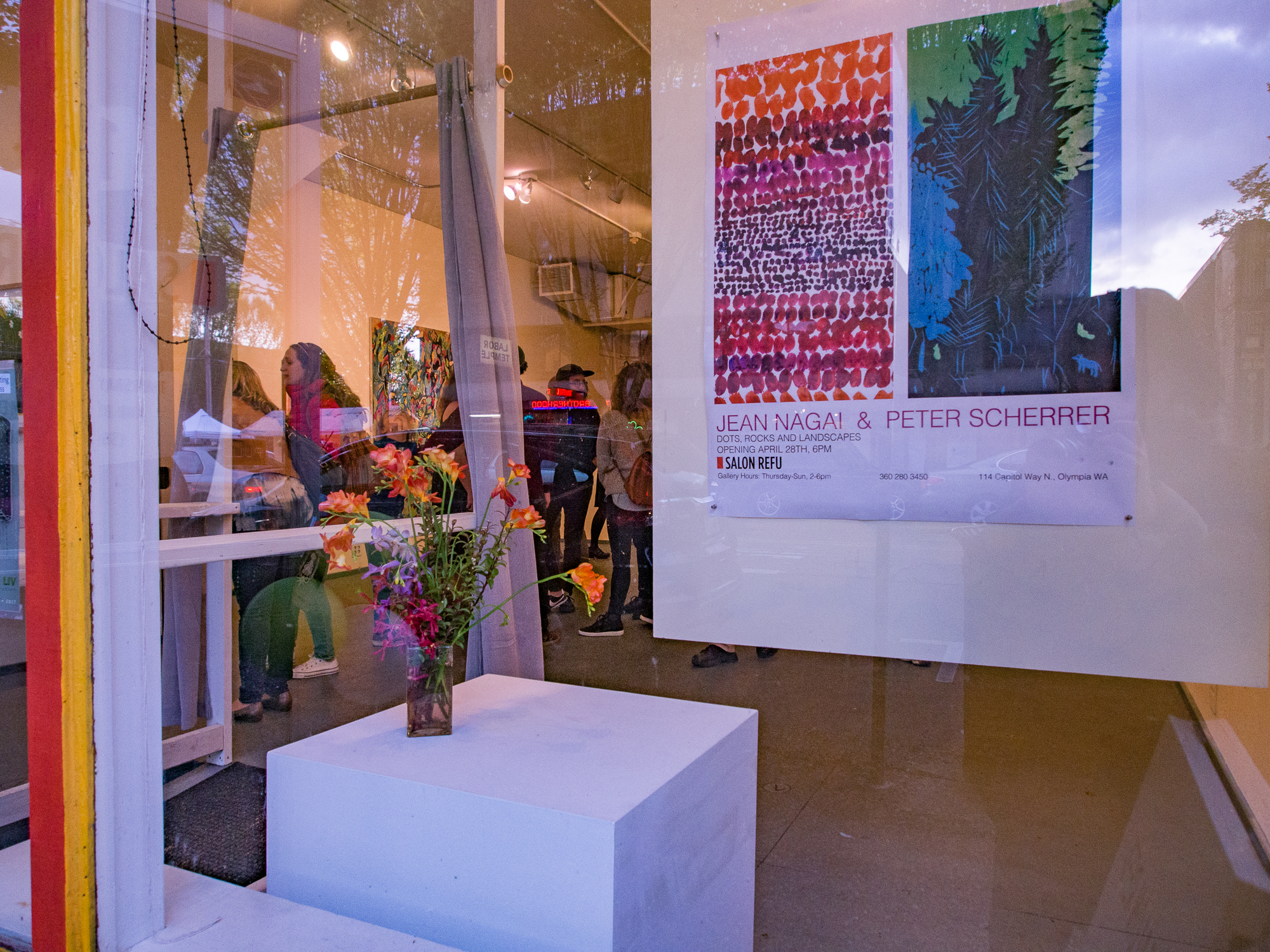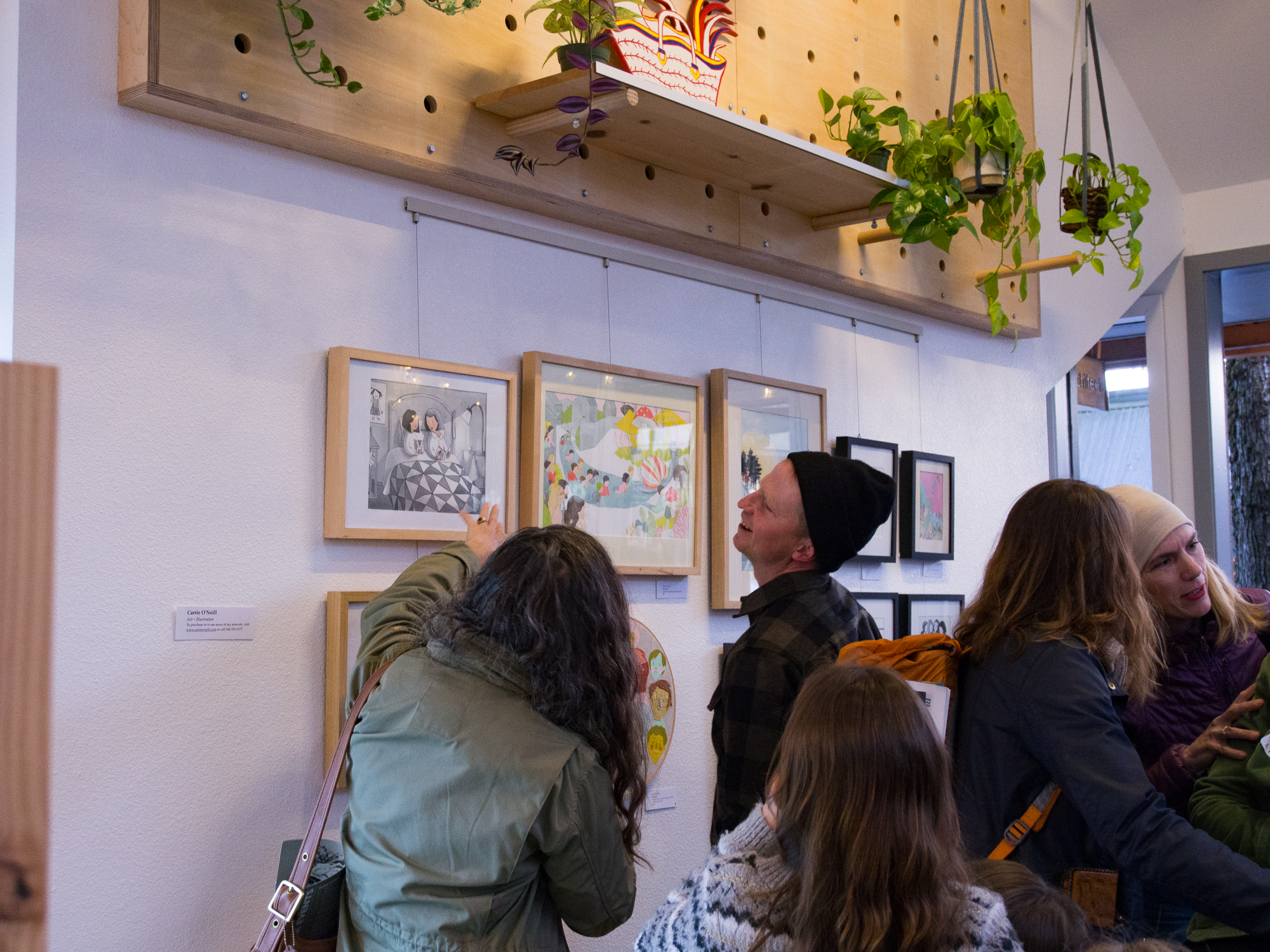 We caught a parking-space-size band in front of Archibald Sisters, performing in a taped off parking space, with all of their limbs and equipment impressively huddled inside. They were all wearing plastic animal masks—a crow and a unicorn—which was a theme we saw repeated throughout Arts Walk– did everyone agree on animal masks? Is there something we're missing, here? Should we have been wearing masks too?
Next up was Little General, with a very cute and very crowded-around wall of Carrie O'Neill's watercolor paintings. We stopped in for a quick look, and left before we were too tempted to load up on deli goodness. Psychic Sister wasn't on the Arts Walk map, but we noticed their wonderful display of chalked hearts and names of people killed or injured by police along the sidewalk, as well as a banner in support of local brothers Andre Thompson and Bryson Chaplin, shot by Olympia police officer Ryan Donald—see the CPJ's continuing coverage of their court case for more information. We headed back over to 4th Ave to see the work of Evergreen student and last issue's cover artist Megan Bailey. Their amazing paintings are adorning the walls of Rush In Dumplings. On our way there, we passed a massive group of people crowded in the blocked-off streets around various performers, all of whom happened to be kids.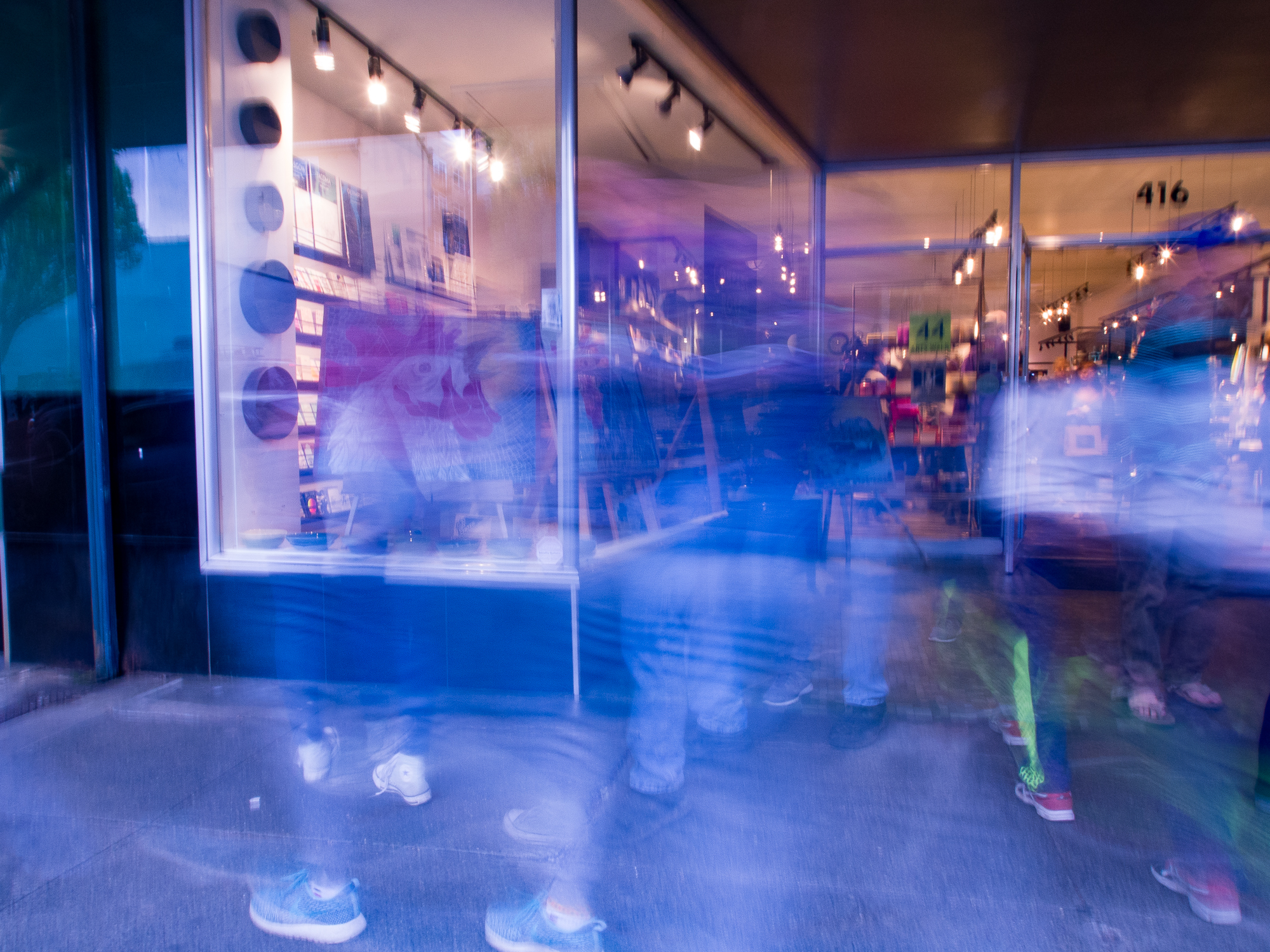 There was a noticeable lack of classic Olympia townie performers this year, and they seemed to have been replaced by– admittedly adorable– middle school kids doing card tricks and breakdancing. It left us wondering if Arts Walk organizers had made an effort to create a more "family-friendly" atmosphere through pushing out most of downtown Olympia's more colorful characters. While we enjoyed walking around and seeing the art, we couldn't help but feel a little out of place at events which seemed to be heavily geared towards families with small children.
We had to miss out on the evening Luminary Procession– the more mystical, more glow-y version of Saturday's Procession of the Species Parade– but caught some gorgeous photographs of the event popping up on our friends' Instagram accounts that made us very jealous. Saturday's Procession was a huge hit, despite the rain and drop in temperatures, drawing crowds numbering in the thousands, according to The Olympian.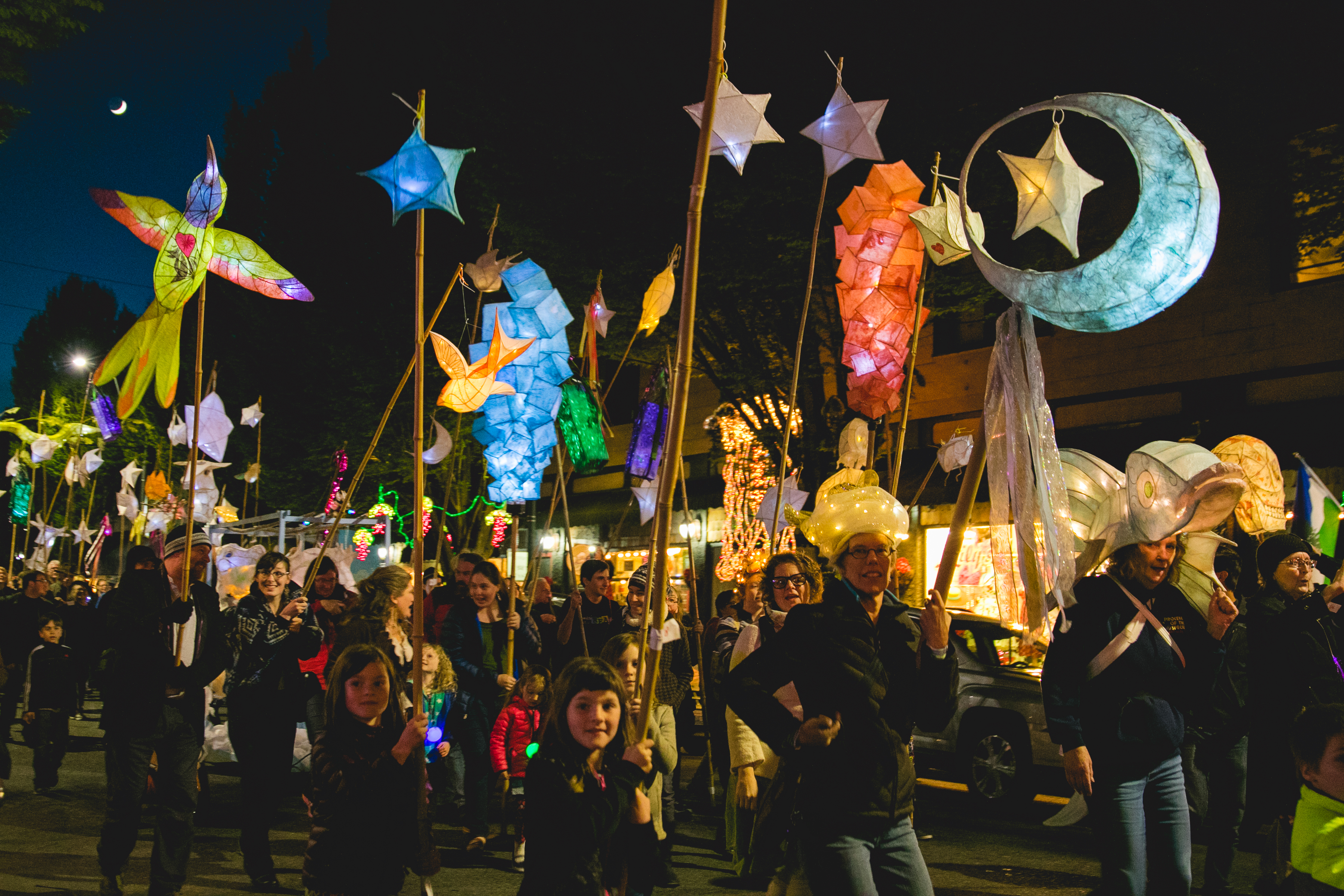 Our photographer Tari Gunstone was able to make it, however.
While it's difficult to pick a favorite creature, the hit of the parade for us was the massive peacock, whose moveable neck and tail brought it to life, thanks to the efforts of its many operators holding wooden poles. Olympia resident Kayla Weiss said the highlight of the parade for her was the "sun and flowers float that was at the beginning of the parade," adding, "It was just this sunrise entrance into the whole parade and all of the flower people twirling around the sun was the best possible opening for the whole event." Weiss says she's "never loved Olympia more" than she did while witnessing the Procession for the first time. If you missed out this year, there's always next spring!