Posted
May 24, 2017 by Cooper Point Journal
in News
Andre & Bryson's Trial Ends Jury Deliberation Began Friday, May 12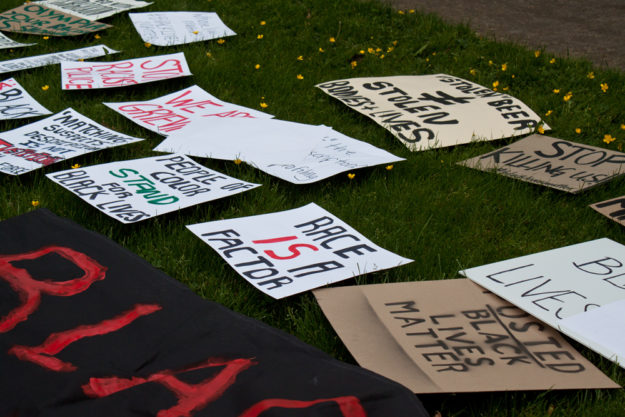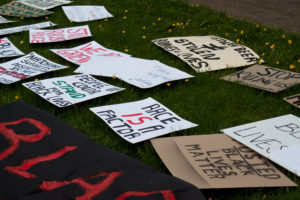 By Felix Chrome
The trial for brothers Andre Thompson and Bryson Chaplin, which began Monday, April 10, has finally drawn to a close. Closing arguments wrapped up Thursday, May 11, and jury deliberation began Friday morning. As of the morning of Tuesday, May 16, no verdict has been announced.
Thompson and Chaplin are on trial after being shot by Olympia Police Department Officer Ryan Donald in May of 2015. The Thurston County Prosecutor did not pursue charges against Officer Donald and he was not fired or reprimanded by the OPD. Because Donald alleges that Thompson and Chaplin assaulted him and the shooting was in self defense the brothers are now facing multiple counts of second-degree assault, a Class B Felony.
Although they survived the shooting, Chaplin is now partially paralyzed and must rely on a wheelchair.
A verdict is still forthcoming– on Monday, May 15, the jury emerged from deliberation to request they be allowed to listen to the dispatch recording of Officer Donald at the time of the incident again. This recording of Donald's calls at the time of the alleged altercation between him and the brothers is a key piece of evidence, especially since there were no bystanders who witnessed the incident.
During closing arguments, Prosecuting Attorney Scott Jackson tried to portray Thompson and Chaplin's behavior on the night in question. Scott is quoted in the Olympian describing the night saying, "They are drunk. And they want to fight. And they want to hide. And that's what they did, and that's what the evidence has shown… They started this and [Donald] had to defend himself and he used deadly force because he thought his life was in jeopardy." Chaplin's defense attorney, George Trejo, countered this, asserting, "Officer Donald's story is not credible. The investigation was abysmal, and his story was nonsensical."
Many community members turned out to support Thompson and Chaplin throughout the trial. During closing arguments the court room was especially full as many police officers, in full uniform, attending the trial to support Officer Donald, as well as the activists and supporters who has been more consistently present.
An Evergreen student who was present for closing arguments described the scene saying, "Support turned out in numbers for the afternoon session of the final day of the trial. I had heard that earlier in the day uniformed police officers lined the back row of the court, adding an intimidating presence to the proceedings."
Ryan Donald was present along with this group of officers, "At one point, some bold individual went up to Officer Donald, who was seated in the back eating a muffin and reminded him that there was no food allowed in the courtroom, then asked him if he thought that rules did not apply to him just because he was a cop."
Sam Miller, another community member who was present for some of the trial, shared his impression of Officer Donald's testimony, writing, "Donald just said in court 'I would of shot them in the face if I was trying to kill them' in reference to his shooting of Andre and Bryson. He strikes me as an intensely sad and angry man who would be dangerous even when not armed. I feel for this family and I'm disgusted at this society for creating an arena for this man to be allowed to make life or death decisions."
Miller was also there for closing arguments and commented on the intimidating presence of police, "There are 18 fully armed, uniformed Olympia police officers in the courtroom today for closing arguments. They obviously felt it was necessary to make a 'show of force'. Officer Donald is in the middle of them." But added, "They're still vastly outnumbered by the supporters of Andre and Bryson."
Community members who have been attending trial dates and organizing protests to show support for the brothers. The family of Andre and Bryson have called for people to gather in Heritage park at 7 p.m. after the verdict is announced, "Either in celebration or in anger, whether they are deemed 'guilty' or 'innocent,' show up to express your love for and solidarity with Andre & Bryson."
Organizers have requested attendees wear red and purple, Chaplin and Thompson's favorite colors, and bring banners, signs, and noisemakers. Organizers have also shared the family's wishes for a peaceful, healing event. The Olympia chapter of Showing Up for Racial Justice (SURJ) has also called for community members to come to the courtroom when it appears that the verdict may be announced.