Kabby Mitchell Remembering a Beloved Evergreen Faculty & Local Cultural Icon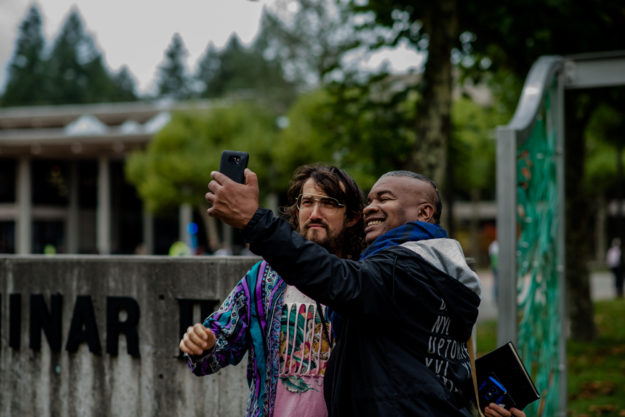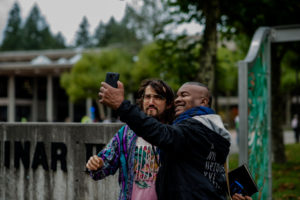 By Ruby Love
Kabby Mitchell, III, celebrated performer, choreographer, mentor, and Evergreen faculty member passed away last week, Thursday, May 4, at the age of sixty. A member of the faculty since 1998, Mitchell taught interdisciplinary programs in Performing Arts and African American Studies. An acclaimed ballet performer and choreographer, Mitchell taught across many genres, from ballet to Afro-Haitian dance. His career as a teacher spanned more than thirty five years, as he taught in schools and dance academies in Washington, Iowa, and Mexico.
According to Evergreen's memorial page, Mitchell "also taught at a number of other Seattle-area institutions throughout his career, including Cornish College of the Arts, University of Washington, Seattle Academy of Arts and Sciences, Spectrum and Ewajo Dance Workshop."
The first African American male soloist to join Seattle's Pacific Northwest Ballet, Mitchell saw the importance of working to break down social and economic barriers. While he is remembered as a talented dancer and choreographer, Mitchell also dedicated himself to studying African and African American History as well as the rise of white supremacy movements in the United States. Faculty member and friend of Mitchell's, Liza Rognas, remembers him as "always pushing to confront and dismantle racism;" just as passionate about social justice as he was about performance. Combining the two came naturally to Mitchell, who worked to empower students of all abilities to express themselves through dance. This spring, Mitchell was teaching the interdisciplinary program Dancing Molecules, Dancing Bodies, which combined social justice, community studies, biology, chemistry, and dance.
Faculty member Cynthia Kennedy remembers Mitchell as someone who always "saw the basic goodness in each of us. That was one of his many gifts. I came away from being in his presence feeling good. Just a couple of weeks ago we sat down together and cackled about getting older and being able to see our dreams come true, shaking our heads at the changing world and the pain on our campus these days. He shared the deep connection he felt for Moonlight and its intersectional portrayal of growing up black and gay and a man. We could have sat all day, but each had to head off to class…."
Mitchell never stopped working to empower young dancers and performers. Mitchell was an "incredibly student-centered" professor, remembered for his dedication to his students' success both in- and outside the classroom. In 2016 he won a prestigious Seattle Mayor's Arts Award, becoming the city's Cultural Ambassador. As Ambassador, he focused his attention on "programs that support the development of young urban dancers, and [supporting] local art and theatre companies whose goals are to serve the underserved community through the arts."
Before his death, Mitchell was working to help open the Tacoma Urban Performing Arts Center which will "provide training for young dancers in Tacoma." TUPAC is set to open July 8, carrying Mitchell's legacy forward. The following day, July 9, a memorial service will be held at Seattle's Paramount Theater to celebrate Mitchell's life and legacy. Evergreen is also hosting two events to celebrate Mitchell's life, "in Olympia and Tacoma on June 2, at 3 p.m." and 6:30 p.m. respectively."