Posted
May 27, 2017 by Cooper Point Journal
in News
Protests on Evergreen Campus Students Challenge Racism and Anti-Blackness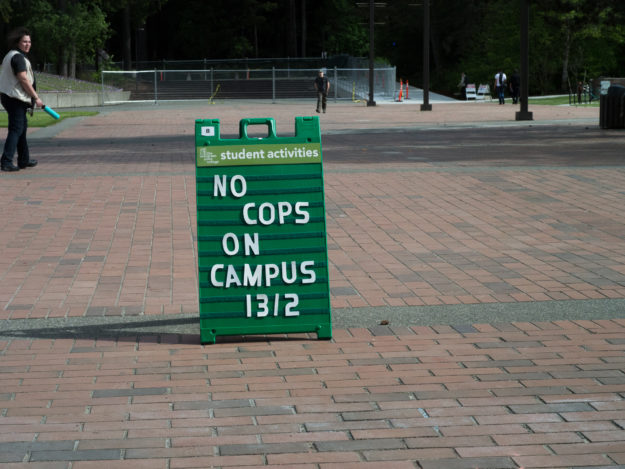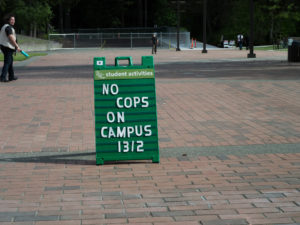 By Georgie Hicks
Months of protest and community dissatisfaction came to head this week with a student led protest, specifically about empowering student voices, formed by the group behind #exposeevergreen gathered the force of the student body, occupied the Daniel J. Evans Library Building, and brought a series of demands directly to several key members of the Administration. Following a series of unsuccessful conversations with different, divided portions of the Evergreen administration over the past several weeks and years, they gathered, personally escorted and held President George Bridges, all of the Deans, the Vice President of Student Affairs Wendy Endress, a Board of Trustees representative, and the full teacher union bargaining team all in President George Bridges office for about five hours. The administration stayed in the room until demands to address the problems of systemic racism and oppression faced by minority students were agreed upon.
This measure was taken because previous attempts to make changes to policy to support students of color and other underserved populations and promote equity had been met with the various sections of the administration blaming the college's stagnancy and lack of action on other areas of the administration, sending students through an endless maze of meetings and conversations that all ended the same way: with empty promises and no concrete actions. No force was used to detain members involved in the meeting, and everyone held in the President's office were provided with food and water, with students available to attend to any emerging needs, including medical care. The building entrances were barricaded when it seemed as if police would be on the way soon. When word got out that police were not on the way, as Bridges' had told the police to stand down and they had locked themselves in police services, White students stopped guarding the doors.
The May 24 occupation followed two weeks of increased student activity around questions of race and equity, ignited by a May 14 incident during which two Black students were brought in for questioning late at night and held by campus police into the early morning. These students were not made aware that they were not legally required to go with the police and were escorted to be questioned by their Resident Director. This incident culminated with the violation of the Family Educational Rights and Privacy Act rights of the students when their personal information was accessed and their mother's were contacted the morning after Mother's Day around 2 a.m.Other factors included the administration's unwillingness to address concerns about faculty's expressions of racist, sexist, and transphobic beliefs, including emails sent by faculty Bret Weinstein, who had been broadcasting his dislike for new equity policies and expressed feelings of being discriminated against because he is white on the all staff and faculty email chain from fall quarter.
The conversation around Weinstein's emails came to a head when the cops were called on a group of students who disrupted his class, demanding he apologize and listen to their concerns, and officer Timothy O'Dell aggressively shoved through a crowd of students protesters.
Though Weinstein is one factor, many other concerns lead to the the occupation, including the drawn out discipline process of two black disabled trans students for their participation in nonviolent protests by Vice President of Student Conduct Andrea Seabert Olsen and lack of student input in new student code of conduct rules that would, among other things, make any form of "disruptive" protest punishable.
The occupation began with a 1 p.m. meeting in the Library lobby, with students moving out to Red Square for a reading of a press release written by organizing students which listed the mounting concerns of marginalized students on campus including lack of health and safety of PoC on campus due to the mounting racial tension and racist emails from faculty. A group of about twenty students then filed upstairs to president George Bridges' office, blocking any possible exits. Hundreds of students followed, filing into the administration offices chanting "Hey hey ho ho the racist teachers have got to go."
Vice President Endress initially refused to meet with the protesters and attempted to leave without addressing the students' concerns. Endress was encouraged to return and eventually came around and was present for the meeting in Bridges' office for the rest of the discussion. Students wanted VP Endress present because of an email she sent regarding the two Black students who were held by police services late May14, that stated "by midnight the police determined that there was no immediate threat. [and] Some of the students were offered alternative places to stay.  Some 'no contact' orders were put in place.  The staff in Student Affairs continues to investigate and consider what consequences or restitution is appropriate."
This information was false as students were escorted by Resident Director Hanna Smith at around 11:45 p.m. and held until around 2 a.m. that morning.The two students who were held and questioned had restrictions put on where they could go in the dorms they live in, at one point they were not allowed into their own dorm rooms and were not offered any resources in which to ensure their safety after this harrowing experience. VP Endress was also involved in pressing charges on two Black students for their participation in a series of protests against the Administration's lack of action in supporting students of color. One day prior to the occupation, on May 23, Endress had refused to apologize before about 300 students and failed to confirm that information in the email she had sent out was false. When she was asked whether the information in the email was factual she opted to say "to my knowledge" and when asked to apologize she said she "wanted to apologize with integrity" and that she "take[s] responsibility for sending that email too soon" to which she was met with disappointment from the students present, who knew that the day she sent the email Endress had been in implicit bias training and yet still sent out an email that left students of color vulnerable.
While all this was happening, professor Bret Weinstein was mocking protesters on Twitter and on Facebook, saying, "If I am hearing them correctly, they are calling for me to be fired as a racist. The fact that I am not a racist makes this awkward." Weinstein had been the focus of student attention for months after he sent an email that called the reversal of the day of absence "a show of force and an act of oppression in and of itself". For this year's event, as opposed to previous years, a small amount of white students, 200, were invited to hold caucus and workshop off campus and PoC were invited to be present on the campus they often don't feel welcome on for their own workshops. Weinstein opposed this change, saying he would not support the reversal and that "you may assume I will be on campus on the day of absence" and encouraged others to do the same. Weinstein, and evolutionary biologist, then offered to have "a discussion of race on campus through a scientific/evolutionary lens."
Weinstein also received information from students who spied in a closed Facebook group including a screenshot of a student's post offering names and faces of students supporting weinstein for PoC to know who to avoid for their own personal safety. No threats of doxxing or violence were made by this student. Weinstein publically posted a screenshot of this message from the closed group, mocking the student saying, "This is a small peak at what my students and I are dealing with. Evergreen is busy with other things while certain people are targeted for their beliefs." As of May 25, the student Weinstein reposted is receiving death threats, threats of sexual assault and is being harassed on Reddit, online sources and directly to her phone by Neo-nazi groups and students who live on campus due to Weinstein's actions.
As the library occupation continued, a faculty meeting was interrupted and many faculty chose to join the administrators meeting with students. The full teacher union bargaining team was present and agreed to bring any issue up in the bargaining with the admin over the collective bargaining agreement (CBA), as the current CBA ends in August. When the question of why racist professors could not be fired came up, it was made clear the CBA and the system of due process at this school made it difficult to remove teachers even when they have committed clearly racist actions. Cynthia Kennedy, faculty and bargaining team member, stated her issues with the CBA and how it has been used to protect racists herself saying, "…when my colleague was saying some thing that were racist, what was decided was that he wasn't actually breaking anything in the CBA. so there wasn't anything that we could do." she continued by saying "I didn't think that [The Current CBA] was working and I really really see what ya'll [students] are bringing up as complaints as real complaints and I don't know if there is a system that can work with it right now." "I am willing to work to help talk about that [as a bargaining member], but I don't see that what we have is working."
At this point other Faculty started speaking up about their experiences trying to combat racism. Teachers who had been here for 15, 20, 30 years were said, they've gone through the current process, and it doesn't work, that the system is broken.
Finally Bridges agreed to work on the demands. Around 5:30 students and administrators came to an agreement and the occupation was ended. Bridges was given two days to meet demands and he promised if any demand could not be met he would outline exactly why it could not be met in an announcement Friday. 
Students warned George that, "If you're not transparent we will be back" to which George responded "I want you to come back even if I am transparent, either way I want you to come back."