Posted
May 31, 2017 by Cooper Point Journal
in News
A Year of Events A Time Line of Protests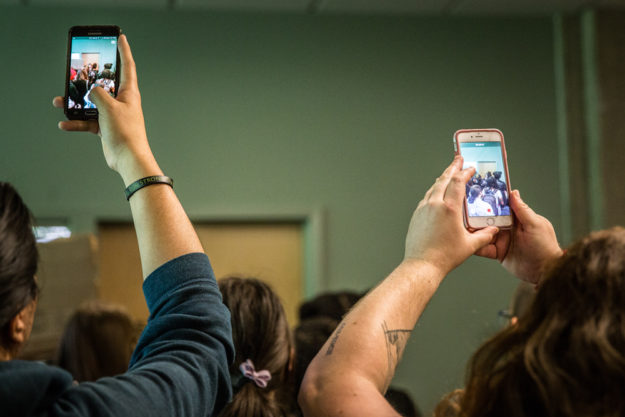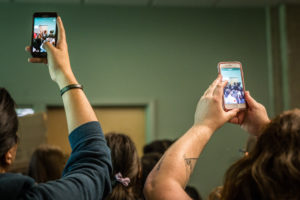 By Jasmine Kozak-Gilroy
Recent protests were a response to tensions that have been mounting through the entire academic year. Here is a summary of some of the events that lead to student action—
September 21
Student Protest at Convocation
Two student protesters took the stage during a question and answer session with the invited speaker holding a sign that said, "Evergreen cashes diversity checks but doesn't care about blacks". President George Bridges interrupted the students, thanked them for vocalizing their concerns, and said that they would have more time to speak on issues of race on campus after the Q & A ended, a promise that was never realized.
November 18
Bret Weinstein Sends Email about Equity Action Plan
In the first major email thread of the year, Weinstein sent an email criticizing the Equity Council's Strategic Equity Plan to the entire Staff and Faculty email list saying, "From what I have read, I do not believe this proposal will function to the net benefit of Evergreen's students of color, in the present, or in the future." His email sparked discussion and critique of his positions by staff and faculty of color and allies, which was met by more emails by Weinstein and supporters.
January 11
Protest at Swearing In Ceremony of New Chief of Police
A group of students, including the two students that took the stage at convocation, brought noisemakers to the swearing in ceremony of Evergreen State College Chief of Police Stacy Brown, taking the microphone from Wendy Endress, the Vice President of Student Affairs, and chanting "Fuck cops". This incident launched an investigation and prosecution of these two students, threatening suspension for the allegedly violent action of taking the microphone from Endress.
March 15
Weinstein Sends Email Regarding Day of Absence
Bret Weinstein sends out email protesting new configuration of Day of Absence/ Day of Presence, bringing on more controversy and many, many more emails.
May 14
Black Students Detained By Police
A week of internet conversations and drama culminating with one student calling the campus police of two Black students, alleging that they had threatened him. His call led to both students being led out of their dorms at about 11:45 p.m. by their Resident Directors to be questioned by the police.
May 15
Students Discuss Questions of Racial Profiling with VP/VP of Equity Candidate
Students co opted the planned conversation with the first of three Vice President/Vice Provost of Equity and Diversity candidates to talk about recent events and the history of racism and administrative stagnancy on campus.
May 19
George Bridges Hosts Conversation About Race, Met with Call from Students to Boycott Event
On May 18 Wendy Endress sent out an email that included false information about the students who had been detained by the campus police, lauding the accomplishments of the administration in the pursuit of equity, and inviting students to a forum hosted by George Bridges to discuss the questions of race brought up in the previous week. Students, fed up with the administrations pattern of inaction and self congratulatory rhetoric, called for a boycott of the event in a press release, positioning the actions of students within a decades long history of inaction and explaining, "We have already voiced our experiences over this year and Wendy and George have made it obvious they don't care about how recent events are affecting the student body. They are making an effort to diminish our voices and take control of a situation they refused to acknowledge until it began to tarnish their reputation."
May 23
Students Confront Weinstein
In the morning of May 23, students disrupt Weinstein's class to discuss emails, with some individual students declaring that they believed that Weinstein should be fired. The campus police were called, and they in turn called the County Sheriff's office for backup. When the cops arrived, student protesters formed a protective ring around the students of color conversing with Weinstein. This ring of students was ripped apart by Officer Timothy O'Dell when he shoved through protesters, injuring two students.
Meeting Held By George Bridges to Discuss the Morning's Events and Student Complaints
At 4 p.m., Bridges met with students to discuss the actions of O'Dell, complaints about Weinstein, and other student safety concerns. The meeting was attended by Bridges, Endress, and Brown. Weinstein was in the crowd of community members who gathered. Students took over the meeting, which was planned as an event moderated by members of the administration, to discuss concerns, ask questions, and make demands of the administration.
May 24
Students Barricade Library, Occupy Building, and Meet with Administrators
Students gathered at 1 p.m. for a rally before flooding inside to George Bridges' office, blocking exits and, over the course of several hours, barricading the main library entrance, gathering Deans, the entire collective bargaining team for the United Faculty of Evergreen union, and hosting a meeting centered around student concerns and demands, moderated and managed by the students themselves. Students presented Bridges with a list of demands, requesting that they be addressed by 5 p.m. Friday May 26.
May 26
George Bridges Addresses Demands
Bridges set a meeting in the Longhouse at 5 p.m. to address the demands made by students, during which he fielded criticism for a stark refusal to disarm the police and, for the most part, repeating patterns of talking instead of acting, implying that many things are out of his control.