Around Town As an new student, you're about to dive not just into a new school but into a new city. Our staff has pulled together a compilation of their favorite spots.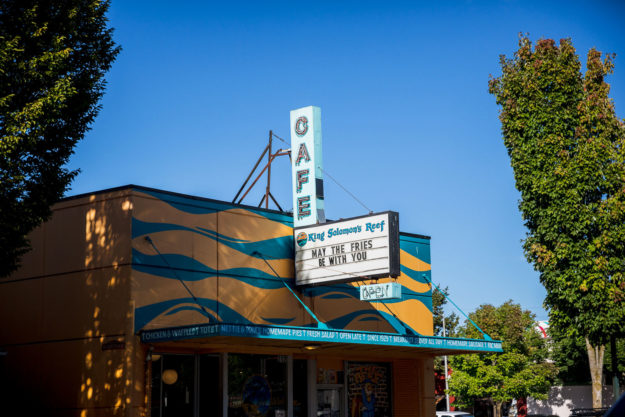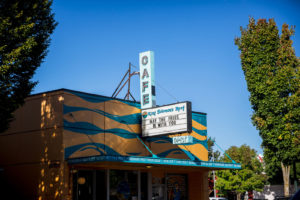 Priest Point Park
Just east of Downtown lies 314 acres of lush winding woods along Budd Bay. Follow steep trails of Douglas fir, bigleaf maple, and red alder through ravines hugging teal water inlets, or take a leisurely walk on the saltwater shorelines. Watch out­—Priest Point Park is known for its muddy shores, don't wear your back-to-school sneakers. Pack your rain boots instead. Watch heron and eagles hunting for food against a backdrop view of the capitol building and downtown Olympia. Priest Point Park is perfect for getting your nature solace fix without running into (too many) other students.
Check the City of Olympia Parks & Trails wesbsite for information about facilities and trail maps. Priest Point Park is on 2600 East Bay Drive NE.
El Guanaco
I first ventured into El Guanaco for their  annual celebration of El Salvador's National Pupusa Day. Pupusas, tradition Salvadoran corn cakes stuffed are fillings, are a staple at El Guanaco, where they sell them individually. Although they do feature full sized menu items that run from about 10 to 15 dollars, my favorite way to enjoy their food is by ordering several of their smaller, cheaper dishes. On a typical outing to El Guanaco, I'll order a couple of pupusas with different fillings, plus one of their many appetizers, and some horchata. If you spend more than five bucks, they'll give you chips and salsa for free, so I end up with a happy little feast. Be warned—while their food is great if you're gluten intolerant, it is not good if you're vegan. El Guanaco also features a wide array of virgin and non virgin cocktails, a large selection of desserts, and one of the most chill waiters in all of the Olympia area.
View the abridged menu online at www.elguanacorestaurant.com/ or visit them downtown at 415 Water St SW.
Nom Nom Deli
The cheapest spot for food in town. Hecka bánh mìs and other Vietnamese eats, check out their a la carte spring rolls and hum bao. Plenty of options for you veg-heads too. When you walk in, there's the shrillest dingdong like at a gas station food mart, only more ear-splitting. The owner is always shining a smile, asking general questions in an intimate way. Inside you will find soothing green paint and a disproportionate albeit charming word-art mural. When ordered to go, their bánh mìs are swaddled like babies in white paper, perfectly wrapped, perfect for on-the-go, perfect for juggling. Recommended for first timers—the lemongrass tofu sammy.
Find "Nom  Nom Deli" on Facebook, or drop by at 513 Capitol Way S.
Josh's Restaurant
Josh's Restaurant is new in town, the project of long time resident Josh, best known for hosting DIY shows out of Le Vouyer. His restaurant is part restaurant and part tape shop. All food is sold in red solo cups, with plenty of vegan, vegetarian, and gluten sensitive options. Josh's is the most fastest and most wholesome food you're going to get under ten bucks in Olympia.
Look up "Josh's Restaurant" on Instagram + Facebook or stop by and say hello at 412 Franklin Street.
After Dark
Obsidian
I am writing this at 8:05 p.m. in Obsidian. The music is loud enough to keep my mind from wandering, but quiet enough to keep from being a distraction. There is ample room for both me and my pal  to spread out across their wide wood booths. There is a wide range of chit chat filling the air and as most patrons filter in and out holding beers or signature cocktails, enjoying their thirsty Thursdays, I am cozied up, sipping coffee, working. Perhaps ironically, they have been my favorite "internet cafe" ever since they gave up their espresso machine in favor of a standard drip system. Now, coffee is $2.75 (including tax) with free refills, a solid deal for any late night benders. Although Obsidian is known best known for their consistent schedule of shows, I find that it is on slow weeknights that they best fill an underserved need for Evergreen students– the need for a coffee shop that is open past 8 p.m.
Check out their schedule online at obsdianolympia.com at 414 4th Ave E.
Le Voyeur
Here we have another bar, restaurant, and show space trifecta. Voyeur will frequently have shows that are all ages and sweaty in a cramped back room with some killer casual light effects. Check out the garlic fries where, for $4, they will dump some small mounds of minced garlic on their thick cut and well seasoned fried. Big plate for a big buddy, buddy. Walk on the other side of the street or risk so much eye contact in passing with people you know but who will definitely be drinking outside. Equals an Olympia classic!
Check out Le Vouyer at 404 4th Ave E.
Oly Dog
Hidden in plain sight on 4th Ave on one of the busiest strips in downtown Oly, Olympia Hot Dog Co. lives as a literal hole in the wall between the Gyro Spot and the psychic hair salon that I don't remember the name of. Often referred to just as "Jake's", a misnomer given to it due to it's proximity to Olympia's famous Not-Gay bar by the same name, Oly Dog offers a wide range of food options deep into the night. When I'm not ordering their deep fried pickles or "totchos" (tater tot nachos), my favorite cheap treat to get at their walk up window is the vegan Oly dog. $4 Vegan italian sausages, kielbasas, and beer brats are all available and come with access to a full condiment bar and the option to veganize it with cream cheese on the bun  with no extra charge.
Olympia Hot Dog Co. is hiding in plain sight in front of Jake's on Forth, 311 4th Ave E.
Solomons Reef
This late night essential serves diner fare with a twist and turn towards very vegetarian friendly grub. Open until 3 a.m., The Reef comes in handy the most when you're needing a creamy shake to slither itself into your inebriated, spinning world. Attached to the restaurant is a bar that you can enter from the side alleyway. Get drunk and go for a one-two all in the same place. You're most likely to leave with a small layer of scuz attached to your person as you've just finished enjoying a greasy Olympian classic. Try as Ms. Pac-Man with a blackberry shake.
You can spot The Reef by their glaring neon sign, or plug 212 4th Ave E.