The Lowdown on Photoland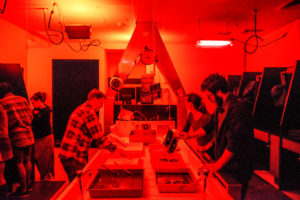 By Sally Linn
Photoland here at Evergreen is a haven for all things photography and it's available to use for free for enrolled students. While it is one of Evergreen's many amazing resources, its commitment to providing a dedicated environment for darkroom photography makes it stand out on a very short list of other colleges around the country still willing to support it. Photoland provides everything needed from start to finish for both film and digital photography.
This introduction will get you started with what you need to know about using Photoland so you can get your dirty hands dirtier with acetate, developers, and grimy but amazing rental cameras. Regardless if you are a photography student, like taking nude self-portraits or are simply curious about the medium in general, the staff there will be happy to help you out. If you aren't interested in learning how to develop and print your own photos, they'll even do it for you for a small charge.
Photoland is located on the first floor of the library building — the floor below the library lobby. The main areas of Photoland are the developing station, the darkroom, the Digital Imaging Studio (the DIS), and the photography studios which are located in the library basement and require a reservation to use unlike most of the other amenities here.
All of the chemicals required to develop black and white film are provided by Photoland. The darkroom has over ten enlargers for printing. The DIS has many, many computers with the latest photo editing software as well as two large scale professional printers. You can also scan your film negatives in the DIS and convert them to digital files — a faster and cheaper method than darkroom printing. The photo studios in the basement offer three professional studios, each with a three-light flash set up, seamless paper backdrops, and an array of lighting modifiers.
Many classes that involve a photography component will do group workshops to make sure everyone is proficient in the darkroom. That being said, if you're someone who's doing individual work, make sure to go at a time when a class isn't using the space. Otherwise, you'll be turned away and asked if you want to make a reservation for the near future. However, it is less likely for this to happen after the first few weeks of the quarter.
If you aren't in a photography class but still want to learn, you can schedule your own one-on-one, hands-on instructional proficiencies for developing black and white film, darkroom printing, and studio use where you can create your own scene and lighting setups. Just ask them about it. Like most resources at Evergreen, you won't know they exist until you ask. The hard part is knowing who and what to ask for. As a Media Services employee myself, the "how" is always politely. The "why" is because it's most likely free and super rad.
When you go into Photoland, the desk on the right is the Photo Services desk. Here you can purchase film, photographic paper, and other materials to get you going. Film supplies are the only non-free part of Photoland for students, but their prices are frequently the same or less than buying online and the staff can help you decide on what's best for your needs.
The desk opposite Photo Services is the main desk where you can book reservations and check out tools like developing canisters and negative carriers.
There are also opportunities for students to display work: the Photo of the Week board, a few different wall spaces, and the online gallery that can be found at blogs.evergreen.edu/photo/. Talk to the head staff there about it.
The two staff that manage Photoland while also teaching photography classes that range in content from experimental to documentary are Steve Davis and Hugh Lentz. Steve's emphasis is in digital photography while Hugh's is film.
If you don't have a camera of your own, don't fret. You can check one out from Media Loan located one floor up from Photoland. There, you can take home a camera for a number of days at no cost, just watch out for late fees. Media Loan has a great collection of digital and film cameras ranging from simple point-and-shoots to rare and expensive large format film cameras.
Other media resources on campus include the Multi Media Lab (MML), audio recording studios, video editing suites, 3D printers, a television studio, and more. Remember, you just have to ask. Most of these can be learned about at the Electronic Media help desk around the corner from Photoland.
.