Burger Fight Big Tom's Vs. Eagan's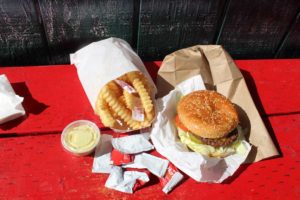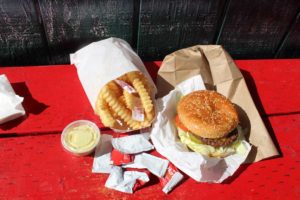 By Sally Linn
Have you ever wondered about the mysteries* behind the Eastside/Westside feud between Big Tom's of the Eastside and Eagan's (Pepsi Fry) on the Westside? So did we and decided to put each drive-in to the test, burger on burger, shake on shake, so you know where to get the best drive-thru Goopy burger in Olympia. We broke it up into seven categories and came up with one definitive and quickly obvious answer. From each stop we ordered a Big Tom burger—yes, Eagan's also features a Big Tom burger, though their staff could not tell us why—a small fry, and a vanilla malt. Here's what we found.
Ambience
Big Toms is something you can't miss while driving by. Its dinosaur statues will grab your attention first. They have a wall of Big Tom themed pop culture characters such as Big Wonder Woman and Clone Tommer from the #GOOPWARS saga. It's a charming and kitschy place to sit in your car and let the sauce slither down your forearms.
There's seating too—we sat at the outdoor diner stools that are spaced awkwardly far apart. You can also walk up to a burger window that's attached to the side of a house and order your burger to stay in the "Garden of Eatin'."
Eagen's is a parking lot where your viewing pleasures include cars blowing past on Division, other people eating in their cars, and a dilapidated storehouse with a mural featuring tweaker fast food characters like a crazy eyed hot dog dripping something wet the end of its wiener.
Winner: Big Tom's
Customer Service
Both stops had a kindly staff. At Big Tom's they wear loungewear with sweatshirts under an apron. Eagan's staff had much more of an Olympia vibe with all staff wearing black tank tops and many sporting dyed hair. Big Tom's staff apparel had a more friendly demeanor and seemed genuinely excited to be serving us fast food. The Eagan's girl taking orders only got excited when we started inquiring about the Big Tom/Pepsi Fry similarities and their history. Unhelpful but still affable.
Winner: Big Tom's 
Speed
The shakes came out first at both places with the staff walking it to our car while still in line. Big Tom's seemed much more production oriented. They had likely twice the staff on hand as Eagan's and it showed. Our car kept rolling through the line and our order was swiftly handed to us. Eagan's on the other hand had us waiting behind cars, then at windows.
Winner: Big Tom's
Burger Integrity
Each place's Big Tom burger came with double meat and double cheese with veggies and the same mustard-based Goop sauce. The fundamental differences remain a mystery. Now to where it counts. In terms of structural integrity, the Eagan's burger was more sound, less of a slop mess—one you can easily pass around inside of a car without any paper wrapping. There was a lot of bun and not enough veggies though.
The Big Tom burger had more sauce and more substance. I like my burgers saucy and they should be nearly soggy by the end. Slightly messier but more adventure. The meat was cooked almost identically at each place but Big Tom's had something special in the seasoning that puts it on top.
Winner: Big Tom
Fry Fry
Like the burger name and the Goop sauce, the fries too were also almost identical at each stop. Both places were serving crinkle cut fries that had a crispy outer and a melt-in-your-mouth inner, fries that don't leave you parched. On the whole they were both pretty average fries with Eagan's being slightly crispier but in a slightly less convenient package wrapping. It was hard to tell if they were recently defrosted or not.
Winner: Eagan's Pepsi Fry
Shake Shook
The difference between the two burger drive-ins was most apparent in their vanilla malts. They tasted nearly the same and both had a sickly pale yellow hue to them, but Big Tom's had considerably more malt in it. Eagan's might have had the same malty taste if the powder wasn't all clumped at the bottom of the cup. The straw given with a shake at Big Tom's is likened to one you'd receive with bubble tea. It was huge and somewhat disconcerting to be drinking something so thick out of. Eagan's straws were regulation shake width. They also had a plethora of shake flavors, not limited to fruity dairy nightmares like lime and watermelon.
Winner: Big Tom's
The Verdict
We all felt like dirt after all this consumption. Big Tom's far surpassed Eagan's Pepsi Fry in overall experience. Being a Westside landmark, Eagan's was more like a novelty to dine at than being any solution to a craving. Being on the Eastside it is a slightly bigger commitment for most folks to get to Big Tom's but one that pays off in nearly every category. If you want a dirtier, quick stop (to get to, not to get your food,) choose Eagan's. If you're committed to getting some good local fast food, take the drive and head to Big Tom's. Whatever you choose, they're basically the same thing.
The staff at both restaurants could not address our questions about why they both had Big Tom burgers, but some Googling enlightened us. According to a blog post on NW Grab Bag, informed by a long, long time Olympia resident, "Big" Tom Eagan's owned the Eagan's on the Westside for many years before opening up the Eastside location and, in an effort to avoid confusion, named it Big Tom's. It seem that there were actually a handful of Eagan's back in the day, although they are all owned by different  people. The only location still owned by the family of "Big Tom" is actually neither ion the Westside or the Eastside, but deep in Tumwater. Guess we'll have to check it out next!