Staff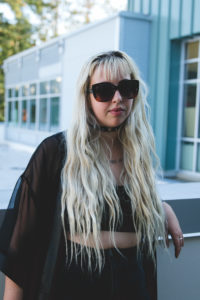 Felix Chrome- Editor In Chief
Felix is the Editor In Chief and coordinator of the CPJ. When she isn't working on the paper she studies critical theory and experimental poetics. Felix likes to read and loves to party. Felix likes to read and loves to party. According to her OkCupid she spends her time "working on becoming a liberal arts school drop out, borrowing books from like library and not reading them, and pretending to write poetry." If she isn't at the salon of spending all night in the office working on the paper, you can find her downtown drinking shitty beer and talking about anarchy. Please don't talk to her about work.
Jasmine Kozak-Gilroy – Managing Editor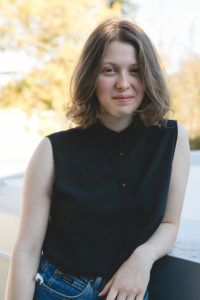 Jasmine spends her time reading for class, reading for pleasure, reading your submissions for the Cooper Point Journal, and taking walks to the elementary school near her house to use their swings. It is hard to pinpoint exactly what she's studying, but when she introduces herself during tours for prospective students, she says she's studying "Social, Cultural, and Political Analysis"- the parents seem to love it. If you're looking for her check the basement of the library, where she may be napping, or the writing center, where she'd be happy to take a look at your essay. Wherever she is, bring her coffee and snacks. She's known in her social circle for both being "a huge kill joy" and "fun at parties". Her mother, once a hippie and now a bureaucrat, likes to tell her that she is very proud of everything that she has accomplished. Her father, once a Marxist and now a Trump supporter, likes to tell her that he's proud that she's not fucking up.
Sylvie Chace – Community Editor
Sylvie Chace is a soft queer scorpio who edits and writes horoscopes for this paper. They are in their fourth year at Evergreen studying art, politics, and philosophy. This is their second year working at the The Cooper Point Journal.  While they are not in class or at the cpj office they enjoy petting other people's dogs and casting spells under the full moon. Their ultimate dream is to be a cat psychologist.
Chloe Marina Manchester- News Editor
Chloe Marina is the News Editor at the Cooper Point Journal. She has almost no life outside of the CPJ, class, writing, reading, and (for some reason) working for the PR department at Evergreen. She's a junior at Evergreen in her second year with the CPJ, studying creative writing, poetics, and (probably) journalism. She's very into knowing things about stuff and reading things she doesn't understand.  She is going to go to grad school for an MFA in fiction because she is pretty sure it might be worth it. She wants teach college students creative writing and has made peace with that future. Chloe Marina definitely wants to meet your cat and have coffee. Probably at the same time. To quote her mother, "There is nothing wrong with her."
Ruby Love – Art & Culture Editor
 
Jennifer Hicks – Writer
Jon Fitzgerald – Writer
Rachel Carlson – Writer
Sedona Wall – Writer
Tari Gunstone – Writer
FOR GENERAL AND EDITORIAL CORRESPONDENCE: cooperpointjournal@gmail.com or (360) 867-6213
FOR ADVERTISING SALES OR BUSINESS INQUIRIES: cpjbiz@evergreen.edu or (360) 867-6054