Posts Tagged 'Luminary Procession'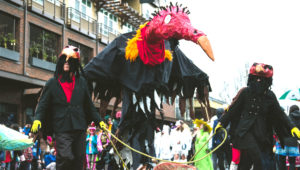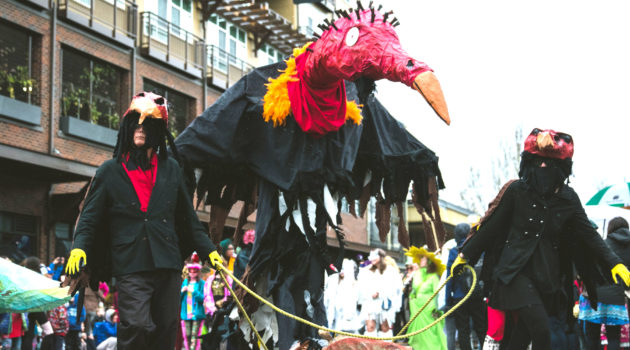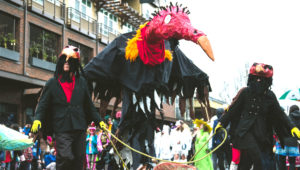 By Ruby Love Photographs by Tari Gunstone Spring Arts Walk kicked off this past weekend, flooding downtown Olympia with crowds of people. A long-overdue break in the rain on Friday likely contributed to the crowds, as the city seemed to wake from its long hibernation. We started off our art-seeing, music-listening marathon on Friday evening at Salon Refu, where Washington artists Peter Scherrer and Jean Nagai were celebrating the opening of their joint show. Nagai is an Evergreen grad and a former Cooper Point Journal cover artist, so we were especially excited to see his new work! While they work in similar mediums, Scherrer and Nagai work in vastly different styles, even down to their color choices; but their pieces played off of each other nicely. As usual, it was about a hundred degrees in Salon Refu, and packed with people, so we headed on to other things. We caught a parking-space-size band in front of Archibald Sisters...
By Felix Chrome & Jasmine Kozak Gilroy Spring is here! Which means it's time for another Arts Walk, and Procession of the Species. This years events will be taking place on Friday, April 22 from 5 to 10 p.m. and Saturday, April 23 from Noon to 8 p.m. If you haven't been to one, Arts Walk is an event that takes over downtown twice a year, closing the streets to cars so people can wander seeing art and performances by local artists on the sidewalks of Olympia and in various downtown businesses. This year's Arts Walk boasts over 100 businesses, hosting work by local artists including Evergreen students and alum, and over 75 live performances in the downtown core. Spring Arts Walk is extra special because it also includes Procession of the Species and Luminary Procession in its festivities. Luminary Procession will take place 9:30 p.m. Friday night, and Procession of the Species will be at 4:30 p.m. the next day. Luminary Processio...